Rwanda´94:
Beyond Time and Space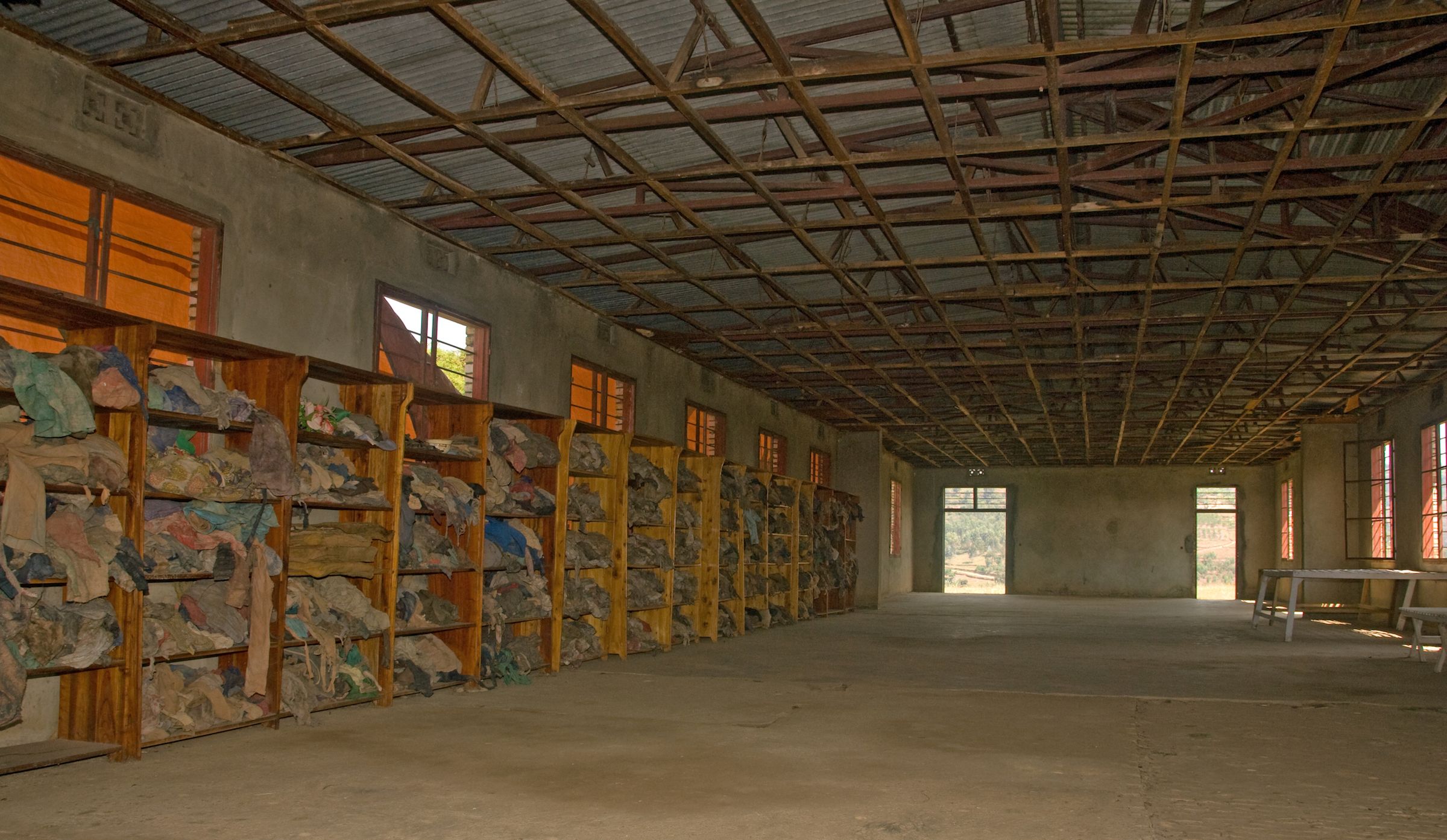 "…shredded Cloths, stained with blood, and dirt;
lonely Combs;
sad Cooking Pots;
Passports to apocalypse;
broken Glasses, abandoned, to gather dust;
perforated Kettle;
you rebellious Rosaries and Pens of all colors,
you are such a mountain
painful to face…."
adapted from A song to the Destroyed, by Rafiki Ubaldo, Uppsala, summer 2014
Introduction to Rwanda'94: Beyond Time and Space
By Frank Möller
I first met Rafiki Ubaldo in March 2010 when we both attended a seminar at the Dag Hammarskjöld Foundation in Uppsala. The Foundation's Executive Director, Henning Melber, was aware of my interest in Rwanda and introduced us at the end of the seminar. Rafiki and I agreed to stay in touch and to think about possible forms of cooperation. On the following day, I received a short email from Rafiki:

A day passed without sending you this email and that is very very bad. Got lots of things to do. Now we reconnect. Hope you got home safely. Warmest regards, Rafiki
That felt like a good start!
A couple of days later, Henning directed my attention to a book project prepared at the time by Lizelle Bisschoff and Stefanie van de Peer titled Art and Trauma in Africa: Representations of Reconciliation in Music, Visual Arts, Literature and Film – a good opportunity, it seemed, to think about cooperation in more concrete terms. After a brief exchange of ideas, Rafiki and I responded to this call for papers by submitting an abstract for a paper titled Life after Death: Photography and Agency. Lizelle replied on 21 April 2010, articulating interest in the paper and four weeks later, we received another email accepting our proposal for inclusion in the volume. Now we had to transform our ideas into a full-fledged book chapter.
Our idea was to write a chapter on recent photography in the context of the aftermath of the 1994 genocide in Rwanda and to discuss this photography in light of ethical, aesthetic and political considerations. Several books had just been published including Jonathan Torgovnik's Intended Consequences: Rwandan Children Born of Rape, Alfredo Jaar's Let There Be Light: The Rwanda Project 1994–1998, and Robert Lyons and Scott Straus's Intimate Enemy: Images and Voices of the Rwandan Genocide. We also wanted the chapter to be interview-based with a lot of space devoted to voices from Rwanda reflecting upon their own experiences when confronted with photography and photographers. With regard to African art, Jonathan Jones, writing in December 2005 in The Guardian, had declared it irrelevant whether such art "makes it in London." Jones "wanted to know what forms of visual culture might actually be of use to those who have nothing." We found this statement inspiring and used it as starting-point for our reflections.
Preparing Rafiki's impending trip to Rwanda, we thought about questions he could ask on location when conducting his interviews. We agreed from the beginning that we would not treat the interviews as "raw data" to be translated into "proper" academic language or to quote selected passages to increase the "authenticity" of our analysis. Rather, we understood the interviews as important testimony to individual experiences of voluntary or involuntary exposure to photography in the context of a post-genocide society where the aptness of the photographic practice of taking someone else's picture appeared dubious. An email of April 28 specifies these questions as follows:
– have they themselves [i.e. the interviewees] been subjects of photography; if so, in what form?
– do they feel exploited when others take their pictures, transformed perhaps into a commodity?
– do they suffer, or weaker: do they feel uncomfortable knowing that other people will look at their photographs and that they themselves cannot do much to influence others' perceptions?
– do they think photography can adequately represent them and what they have gone through?
– what do they think photography can achieve in general? Are pictures, in their opinion, a path to reconciliation or do they re-open old wounds (or both) or do they achieve anything else (like raising awareness) or perhaps nothing at all?
– do they think that there is a difference between photographs taken of them by visiting photographers or by photographers based in Rwanda?
– do they think there is a difference between photographs taken of them and then used internationally and photographs used in the national context?
– do they themselves take pictures (as a way of dealing with their experiences)?
– do they know of any photographic project dealing with the 1994 genocide and its aftermath? If so, what do they think of it?
– do they think that there is a difference between verbal and visual representations of the genocide? If so, what is the difference and what do they prefer?
– do they think there is a difference between representations of genocide in photography and in other forms of visual representation (film, painting)? If so, what is the difference and what do they prefer?
– are they tired of being represented by others? Are they tired of being represented as genocide survivor? Would they want to represent their experience themselves? If so, in what form?
– or would they prefer to try to deal with the memory of their experience privately?
– what do they think of our idea that photography can be a medium with which especially young people might exert agency and explore future perspectives for them personally and for the whole society?
This was a huge agenda pertaining to the ethics and politics of representation and, of course, our chapter did not address all of them. During the writing process, we abandoned the idea of trying to give definite answers to any of these questions. Furthermore, the focus of the chapter changed as a result of Rafiki's work in Rwanda. For example, the initial idea that young people, by taking photographs, might exert agency and explore future perspectives is not developed in the chapter that progressed from a discussion of visual representations of genocide survivors to a discussion of photographs of material objects symbolizing social interactions terminated by genocide. In connection with the reproduction of some of his photographs in the chapter, Rafiki explained in an email of 10 January 2011:
I am not looking for new knowledge, I am refusing the depiction of the genocide through aligned skulls that do not tell us more than "these are remains of dead bodies", but an attempt to establish "me-and-the-victim" instead of "me-and-the-past". Very simple, unless one is heartless, then if you visit that memorial and come across the picture with a wedding ring, then [you] almost always connect with the one ring on [your own] ring-finger. I think this makes sense and [is] provocative above all.
Summarizing the experience of our first cooperation, Rafiki wrote to me on 25 October 2010:
It really feels damn good to work with you, not just because you said yes to the pictures [i.e. including Rafiki's photographs in the text]. You meant it, the placement in the text comes to confirm what you mean. But most importantly you've got a smooth style. It feels peace to work with you and that is invaluable.
I was very happy about this email. As I had written to Rafiki half a year earlier, 
There is a difference between reading about these issues [i.e. the ethics, aesthetics and politics of representation] in the theoretical work on art and trauma on the one hand … or in connection with a given case on the other hand
­– not least because personal involvement gets much stronger once attention is focused on a specific case and professional distance is more difficult to maintain once personal relationships enter the picture. But the whole idea of "professional distance" is a myth anyway. It is also misleading, catering to the notion of "objectivity" which, in turn, obscures the fact that academic work cannot be done without emotions, imagination and interpretation. Once we acknowledge that, as researchers, we are involved – that the subjects we study touch us and move us and change us – we can write and see things we otherwise wouldn't see or write.
On a personal note, I might add that it felt to me like a big – and potentially difficult – step to move from scholarly analysis, from the safe space of my Northern office, of texts and pictures produced in the aftermath of the genocide to collaboration with a person who had actually survived the very genocide I was dealing with theoretically, academically and from a long distance, without personal connections as I had not known anybody from Rwanda before I met Rafiki. I suspected that a wrong sentence or a flippant word, a thoughtless remark or another insensitivity might easily end our collaboration before it had really started. Thus, I was pleased to read in the above email that It feels peace to work with you – what more could I possibly hope for?
The book including our chapter was published in 2013 and our chapter's title was Imaging Life after Death: Photography and the 1994 Genocide in Rwanda.
Months passed with lots of emails traveling between Knivsta and Tampere, mostly about project ideas that, for one reason or another, never left the stage of ideas. For example, we could not realize the idea to show Rafiki's work at a peace research conference because the organizers stubbornly insisted that Rafiki, at that time a free-lance photographer, would have to pay the regular conference registration fee, no exception granted... Happy moments, too: the translation of Rafiki's short story The Bullet into Finnish (Laukaus) and its publication in the journal of the Finnish Peace Research Association; the inclusion of some of Rafiki's photographs in one of my publications; hours spent writing long brain-storming emails concerning projects that ultimately failed to materialize … hours well spent!
Then, on 29 July 2013, I received the following text from Rafiki, a draft letter he intended to send to selected people as part of a new book project:
Have you ever visited this website of my photographs www.templesofmemory.org? Please do and let me know what you think. Usually people say fantastic, terrific, and so on. I am happy of such positive appraisals of course but most of the time one does not do much with them, in my case at least!
The point is that I am entering the second phase of this project and I am looking for people who could pick one picture, study it, and develop a short paper around it (no more than 10 thousand characters), once I have all the papers for whatever [chosen] pictures, I will get a book published.
One guideline would be to read the text I wrote about the exhibition: http://templesofmemory.org/index.php/about-the-exhibition, and then get inspired while one is writing about the picture they choose to reflect on. Your text would not be about photography as a technique or a medium, but about what you see in the picture, the information you gather from the picture, confronting that information to issues of memorial conservation, teaching about genocide, and many other issues.
The general goal would be to see whether photographs such as these and the texts developed based on these pictures could be useful teaching material in a classroom. If such would be the case, what then in the pictures allows these class interactions to happen? Are these pictures easy to work with compared to those depicting horrors?
If I would ever be engaged in publishing such a book then it has to be for upper-secondary, senior high students and their teachers. Thus, contributors to the book would have to write texts that are not very complicated for students to understand and teachers to work with.
Over time, this project morphed into the present one – Rwanda'94: Beyond Time and Space. In August 2018, Rafiki asked me if I would consider curating an online project of essays about his photos in the context of the 25th commemoration of the genocide in Rwanda and, of course, I agreed without hesitation.
Accepting his invitation, I asked:
If we manage that [participants] do comment on different photographs, how to avoid that they ultimately say the same things? As you know, there is a certain standard within photographic discourses when it comes to engagements with photographs of memorials, memory and trauma. I see basically three frequent approaches: 1. against forgetting! 2. stressing the continuation of the past in the present (trauma and so on); and 3. emphasizing what we can learn about the original event (the genocide) when looking at photographs of its commemoration. None of these approaches is wrong, far from it, but how can we achieve that our contributors go beyond these standard approaches? One possible way would be to mention the above approaches in the introduction and to ask our contributors explicitly to go beyond. There is no guarantee of course that they will actually do so.
We addressed these initial reservations in the invitations sent to potential participants in the autumn of 2018 when we invited them to either write academically neutral or personal-interpretive reflections. But we certainly hoped for rather personal statements inspired by the photographs, deviating from the standard approaches to post-conflict photography often to be found in academic texts celebrating ambiguity, interpretive openness and viewer's involvement in meaning-making. Again, there is nothing wrong with such approaches but, after initially providing a much-needed critique of some deplorable features of photojournalism and outlining a convincing alternative to it, commentary on aftermath photography has become slightly predictable.
Hoping with our project to add something new to the discussion we invited the contributors to select one photograph (which subsequently became unavailable to others), and to reflect upon that photograph as such or in connection with other images, other memories, or other commemorations. We also asked them to discuss the selected image in the context of the 1994 genocide, or in connection with other subjects of importance in their own professional or private life. Contributors could choose between academic language or a more individual or innovative writing style when either commenting on a given photograph, or submitting a comment that is inspired by that particular photograph. We specified what we deemed the dominant approaches to representations of the aftermath of mass violence – against forgetting; recognizing and acknowledging victims; stressing the legacy of the past and its continuation in the present; and emphasizing what can be learned about the genocide when looking at photographs of its commemoration. We encouraged our contributors explicitly to go beyond these approaches, engaging with them critically or relating them to their own lived experience.
We asked:
– Do these images invoke a sense of place, proximity, or time?
– How do the images speak to you?
– Do the images facilitate empathy or render empathy difficult?
– How do they relate to other forms and contexts of commemoration?
– Are they witnesses and if so, to what exactly do they bear witness?
– Are they event-(genocide)-centred or aftermath-centred or do they even point towards reconciliation?
– Is there a peace potentiality inherent in the images and that which they depict?
We did not expect the contributors to engage precisely with these questions. Rather, we hoped that the questions would trigger unusual and unexpected and perhaps even controversial reactions.
I am neither a Rwanda expert nor a genocide scholar. I am conducting and teaching visual peace research. As such, I am interested in the function and operation of visual images in violent conflicts and wars but also, and importantly, in such post-war settings as peace processes, peace building and reconciliation. In my own work, I try to develop the notion and practice of post-conflict or aftermath photography further towards peace photography. I am interested in a visual (non-linear) trajectory from representations of violence to representations of the aftermath of violence, subdivided into the event-as-aftermath (John Roberts), referring back to and re-negotiating the original violent event, and the aftermath-as-event, referring forward beyond the original event to peace or to peace as a potentiality. Rwanda'94: Beyond Time and Space illustrates clearly and unmistakably the immensity of the step from aftermath to peace in a post-genocide society. Yet, as I suggest in Peace Photography, "Both – peace and peace as a potentiality – can be visualized or visually anticipated, the latter approach necessarily including a utopian element, engaging with the seen and the unseen, with the visible and the invisible, and with that which exists and that which does not (yet) exist."
On what point on the trajectory between the two poles – genocide and peace – is Rwanda in April 2019, 25 years after the genocide? In what direction is the country moving currently? What do Rafiki's images suggest? And is there any reason to believe that they suggest the same things to different viewers?
I sympathize with Avishai Margalit's assessment that only those who possess "knowledge-by-acquaintance of suffering" know what it feels like to be exposed to mass violence including genocide. There is an unbridgeable gap between those who possess such knowledge and those who do not – a gap that no representation can fill. Those who possess first-hand knowledge do not need representations of genocide to know what it feels like to be a target of genocidal violence; they know that from own experience. Those who do not possess such knowledge will not obtain it by engaging with representations of genocide but they will gain something else.
What this "something else" is depends on the subject positions, experiences, identities, histories and memories each person carries with them. Hence, no generalizations, no hierarchies, no academic theorizations.
References
Bisschoff, Lizelle and Stefanie van de Peer (eds.), Art and Trauma in Africa: Representations of Reconciliation in Music, Visuals Arts, Literature and Film (London and New York: I.B. Tauris, 2013)
Margalit, Avishai, The Ethics of Memory (Cambridge: Harvard University Press, 2004)
Möller, Frank, Peace Photography (Houndmills: Palgrave Macmillan, 2019)
Roberts, John, Photography and Its Violations (New York: Columbia University Press, 2014)
Tampere, 5 April 2019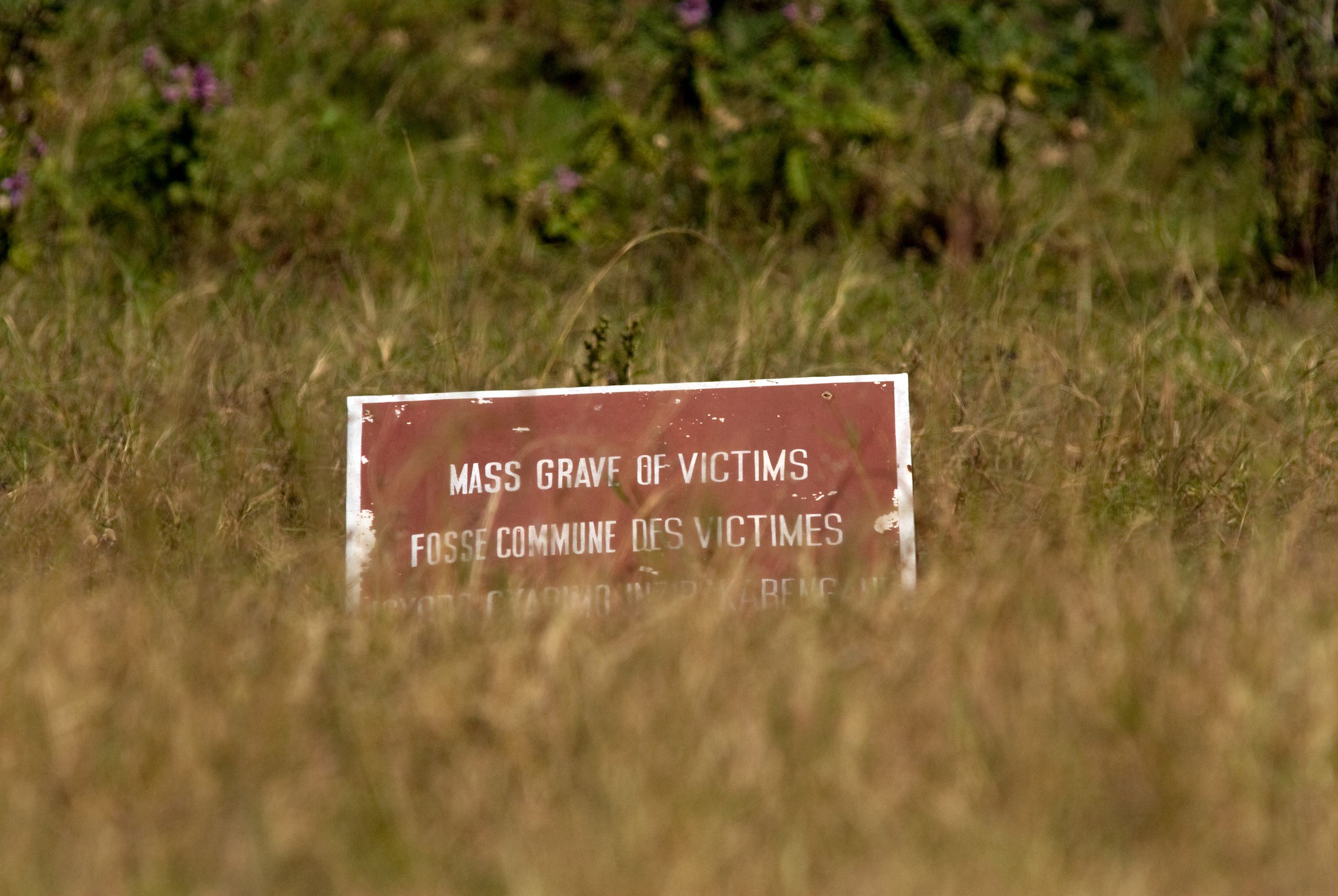 What I can see,
is the homeland of testimony
of our time
- a photo-graph -
pronouncing war
interrupting time
telling of how in the face of bloodbath
the alphabet letters cannot but
fly away.
Fazil Moradi, Berlin, March 31, 2019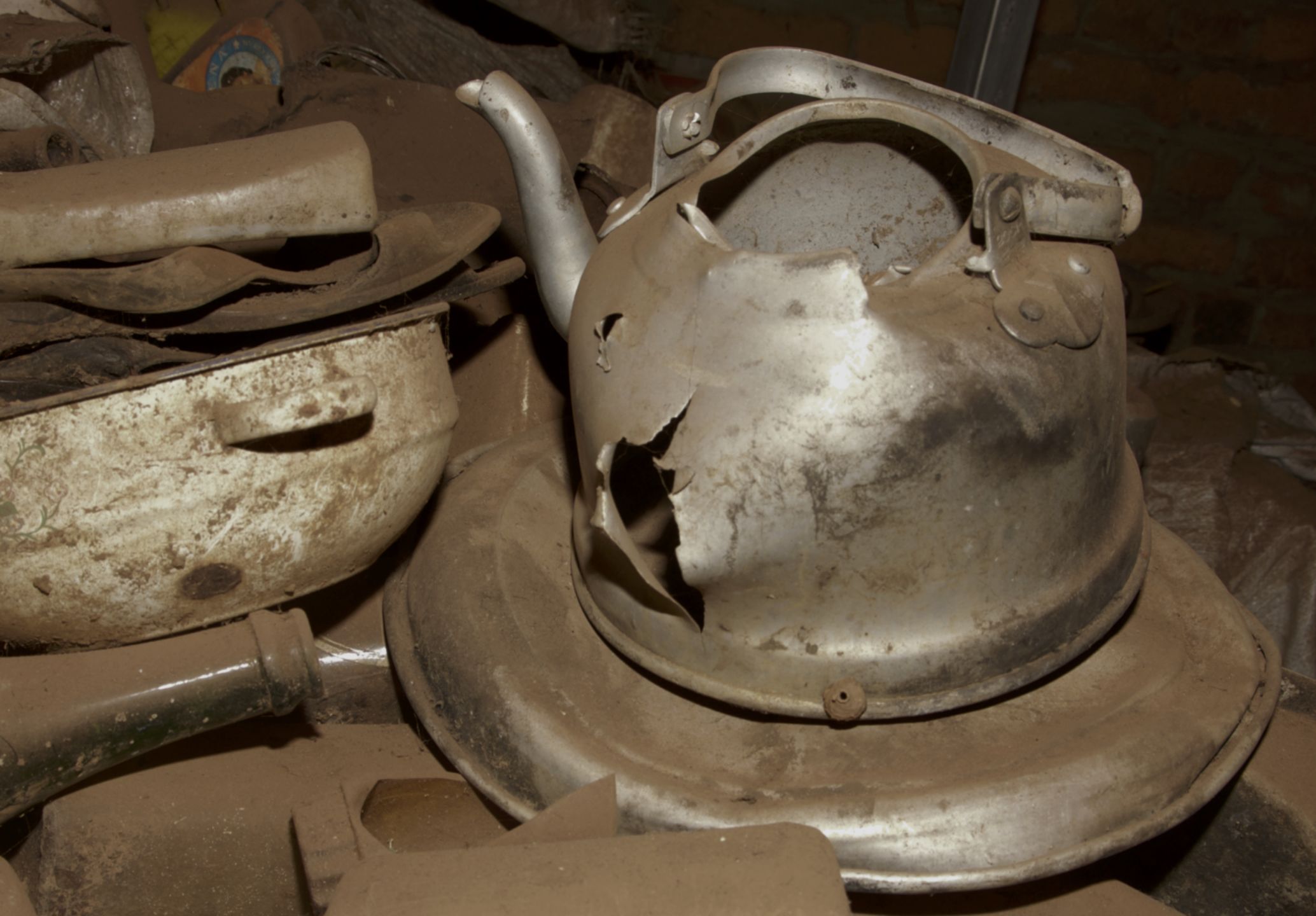 The Genocide of Things and the Things of Genocide

By Andrew Woolford
"Écoute plus souvent
Les Choses que les Êtres
La Voix du Feu s'entend,
Entends la Voix de l'Eau.
Écoute dans le Vent
Le Buisson en sanglots,
C'est le Souffle des Ancêtres.
Il redit chaque jour le Pacte,
Le grand Pacte qui lie,
Qui lie à la Loi notre Sort,
Aux Actes des Souffles plus forts
Le Sort de nos Morts qui ne sont pas morts,
Le lourd Pacte qui nous lie à la Vie.
La lourde Loi qui nous lie aux Actes
Des Souffles qui se meurent"
(From "The Breath of the Ancestors" by Birago Diop)
I want to write of the genocide of things and the things of genocide. This is not an exercise in moral equivalence. A kettle is not a human, but a human may be more so because of their interaction with and through a kettle. The destruction of the things in between us humans can sever strands in our relations. The genocide of things can make us less human.
I spoke recently with a friend who is a Survivor of the Canadian Indian Residential School system – a government and church-sponsored experiment that lasted nearly 100 years and sought to eliminate Indigenous cultures. He mentioned how a birthday cake can trigger in him emotions of loss, loneliness, and abandonment. He spent each birthday of his childhood at the residential school, without family to help him celebrate the day. The cake – this "thing" of flour, sugar, eggs, and water – was an object through which his family might have come together, through which they might have become a family. His parents died soon after he was released from the school. They were almost strangers to him. The birthday cake is more than just a cake.
In genocide humans are often likened to things. Stück. Cockroaches. Savages. It is suggested that regarding others as less-than-human makes it easier to kill one's perceived enemy. Murder becomes "clearing the brush" or hunting.
Our animal kin find themselves caught up in these practices of dehumanization. The relationship between the Indigenous peoples of the North American Plains and the bison, who for the Cree and other groups were also a "people," made each a metonym of the other. Both were viewed as an obstacle to white settlement and both had to be eliminated (Hubbard 2014). Likewise, the ankole cattle have long observed relations between their Tutsi and Hutu neighbours. They have been umuheto and ubuhake, gift and obligation, in these relations (Ezeanya 2014; Mamdani 2014).  They both became a symbol of power and subjects of genocide. Hutu were called on to kill the Tutsi and "eat their cows" (Magnarella 2002).
But it is not just a matter of other living things. The things belonging to people are also caught up in genocide. They are not destroyed for being things, so much; it is for what they represent. Water flows into the kettle, from kettle to teapot, from teapot to cups. People gather around the kettle, around the teapot. Conversation flows. Water gives life and is life. A network of relations is made possible through a single kettle. Too much flow amongst supposedly "obstructing beings" (Taylor 1999). Is it insignificant that this kettle was ruptured during the genocide in Rwanda? To eliminate a people, you rupture their entire world. Their homes, their fields, their possessions are not only things to sustain them, they are things that make them. They breath with life. These things cannot survive, as they once were, if everything is to change.
If people sat around a table, sharing in tea and conversation, the perpetrator must admit their humanity. The kettle is also a target – it tells a story the perpetrator cannot accept. It is a potential witness not just to the crime of genocide, but to the humanity genocide denies.
The broken kettle is a corpse – a "stubborn will to mean, to signify something" (Mbembe 2003: 35). From a single kettle unfurls webs of meaning. Heating water for tea suggests a time of peace, certainty, maybe even relaxation. It demarcates a space of sociability, where friend and family can gather and through the ritual of drinking tea reproduce their bonds. If the time of the Tutsi was to end, if they were to be eliminated from space, then so too must their belongings. Things are objects through which we belong.
The implements of the kitchen, scattered remains, once held the "breath of the ancestors" (Diop 1967). Family stories shared along with meals. Memories of times of wholeness. To stamp out the breath of the ancestors, these things, and they pacts we form through them, must be broken. These ties, through things, provide an experience of continuity. And thus, the things must be bashed, torn, and damaged beyond repair. The ancestors must suffocate, die, and be forgotten. Things are artifacts. They are an archive of a past that the genocidaire seeks to erase.
In genocide, humans are separated from their things. The Canadian Indian Residential School system operated to disconnect the Indigenous child from their territory, which is now called Canada. In Auschwitz-Birkenau, Kanada was the name given to the storehouse of possessions stolen from the victims of the camp. In Rwanda, land, livestock, equipment, belongings all changed hands. If one survived, one's relations to others, and relations to things, was made near impossible through the loss of belonging(s). The things of the dead may become the things of the killers. But not if they tell the wrong stories – not if they continue to speak of the humanity of the dead. The kettle's whistle is an unwelcome truth.
Genocide rearranges things. It creates new things out of the remnants of the old. Lands are dispossessed. Animals and belongings are claimed afresh. A new order of things transpires. A cup of tea will never be the same. Rwandans prefer tea, soft drinks, or beer to coffee. Rwanda is a coffee producing nation. Coffee production was nearly destroyed by the genocide. Today, Rwandans are encouraged to drink more coffee, to increase domestic consumption. But who can afford a cup? The machine's steam arm froths the milk that is then poured at a gradually steepening angle to join the coffee. The machine is a different sort of thing. The ritual is a different sort of ritual. There can be no genocide ideology in café capitalism, right? But coffee is something foreigners drink, a crop imposed by the Germans and the Belgians along with identity cards. Rwandans were forced to have this crop "made in Rwanda" (Gambino 2018). The breath of the ancestors rises from each cup. A blood-in-throat rasping from the steam arm.
This kettle is more than a kettle. As a thing of genocide, it has its own story to tell. But we need to listen.
References
Diop, B. 1967. Leurres et Lueurs: Poèmes. Paris: Présence Africaine.
Ezeanya, C. 2014. "Indigenous Knowledge, Economic Empowerment and Entrepreneurship in Rwanda: The Girinka Approach." Journal of Pan African Studies 6(10): 241-63.
Gambino, L. 2018. "Forget Tea, Drink More Coffee: Can a National Culture be Changed?" The Guardian, Friday, January 26. Accessed online 11 March 2019: < https://www.theguardian.com/global-development/2018/jan/26/full-of-beans-rwanda-wants-its-citizens-to-drink-more-coffee>
Hubbard, T. 2014. "Buffalo Genocide in Nineteenth-Century North America: "Kill, Skin, and Sell".' In Colonial Genocide in Indigenous North America, edited by A. Woolford, J. Benvenuto, and A. Hinton, 292-305. Durham: Duke University Press.
Magnarella, P. 2002. "Explaining Rwanda's 1994 Genocide." Human Rights and Human Welfare 2(1): 25-34.
Mamdani, M. 2014. When Victims Become Killers: Colonialism, Nativism, and the Genocide in Rwanda. Princeton: Princeton University Press.
Taylor, C.C. 1999. Sacrifice as Terror: The Rwandan Genocide of 1994. New York: Berg Publishers.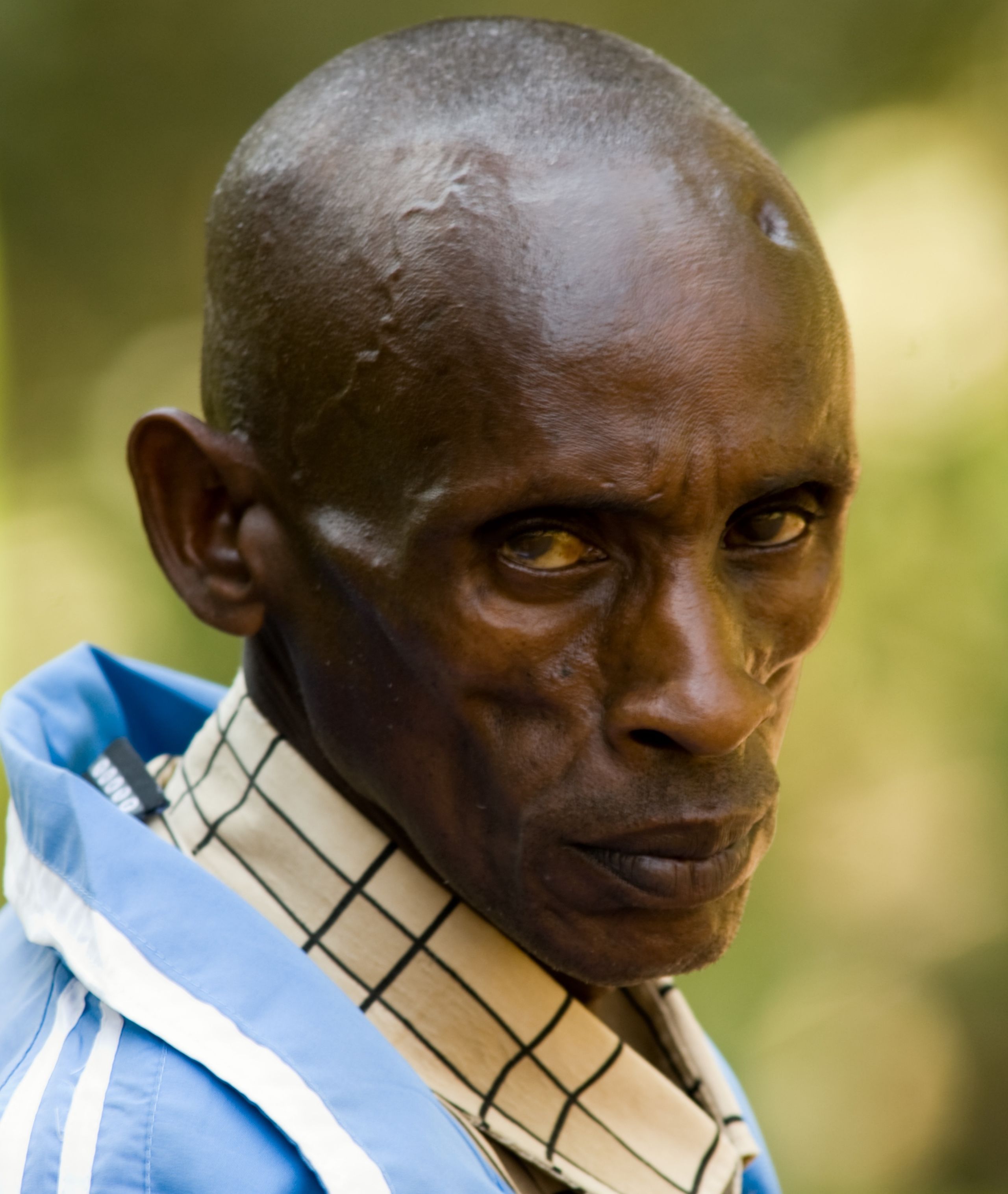 A Man I Considered a Friend

By Samuel Totten
When one saw Emmanuel Murangira from a distance he looked upset, if not angry. When one saw him close up, he looked more forlorn. When one got to know him, he was serious and sad but a warm human being. The pain in his eyes and in his voice was omnipresent.
Rafiki Ubaldo and I interviewed Emmanuel for right around eighteen hours in relation to what Emmanuel experienced and what he lost during the 1994 genocide of the Tutsi and moderate Hutus in Rwanda. The eighteen hours were carried out over six days, and the six days were spread across two months. Emmanuel would frequently agree to speak with us for four or five hours, but invariably he'd reach a point where the pain of his memories, of the loss of his entire family, of the sorrow   -- which was perdurable -- did not allow him to proceed for the day. Thus, sometimes, what was supposed to be four or five hours ended up being two or three.
During the fourth interview, Emmanuel looked up at me, and said: "You are the only one who has wanted to speak with me about my experiences for more than 30 to 45 minutes. You want hours and hours."
At first, I sensed that he was angry with me, telling me in a roundabout way that I was asking and expecting too much of him. It seemed that he was suggesting that I was taking advantage of him. But then, in the next breath, he said, "None of those others were serious. They didn't really want to know my entire story like you do." 
Relieved, I said something like, "I imagine a lot of people have asked you to tell them your story."
"Hmmm," he replied.
As I was about to respond, Emmanuel said, "Some have even taken my story and sold it."
"Sold it for you or…?"
"No! I was told that a young man and woman who interviewed me returned home, copied my story off, and sold copies to make money for themselves."
Rafiki and I were stunned. Here was a man who had lost his entire family  -- his beautiful wife and beautiful, young children – had been slammed in the forehead with shrapnel from a hand grenade, only survived due to the fact that he pretended to be dead while remaining under a pile of fellow Tutsis who had been viciously killed, and thus he outfoxed the killers, and, after a harrowing escape, returned months later to discover his entire family had been killed. Here was a man who lived out the rest of his life feeling utterly bereft, and yet, two individuals, outsiders from another part of the world, had had the effrontery to take what was not truly theirs and make money off it, but even worse, of course, they had the gall to take what should have been understood as a great gift – another person's story told by him about the terrible losses he had suffered during the genocide  --  and to dishonor him by stealing from him and fecklessly using it for one's own miserable profit.
Incensed, I immediately said, "Well, I know how to fix it so that never, ever happens again."
Emmanuel looked at me with his pained eyes, and said, "Yes?"
"What we'll do is this: As soon as we complete your interview over the next several weeks to a month, I will return to my office in Butare and type the interview up. I will then include a cover page that says something like 'An Interview with Emmanuel Murangira' followed by our names as the interviewers. I will then type the universal symbol for copyright by Emmanuel and I will write the date, followed by 'under the auspices of the Centre for Conflict Management, National University of Rwanda, Butare, Rwanda.'
"Then we will get 100 copies made for you, and we will bring all 100 back to you so that you can keep them at your home. You can charge any price you wish for each copy. My sense is that all of those who come up here to Murambi and hear about you or meet you will desire a copy of your story. Even if you sold each copy for only $10.00 – and while that may seem like a lot of money, I guarantee you that anyone from the United States, Europe or Asia or Australia who shows up here will think $10.00 is cheap – you will make a total of $1,000.00. What do you think?"
"You," Emmanuel said, glancing at each of us, "would really do that?"
"It's a promise. You will see!"
And then I said, "When you have sold nearly all 100 copies, we will provide you with another 100 copies."
And so, we did.
Some may wonder about the title of this piece: "A Man I Considered a Friend." Most of the interviews I've conducted with survivors of genocide (in Rwanda, Darfurians in refugee camps along the Chad/Darfur, Sudan border, and in the Nuba Mountains of Sudan) last a minimum of four to five hours. Those where I have interviewed survivors for between eight and 18 hours, I find I have become quite close to them and actually end up visiting them again sometime down the road. As mentioned above, we interviewed Emmanuel for eighteen hours or so. As a result, we spent a fair amount of time with him prior to and after each interview session. During those periods, we all shared information about ourselves, and shared stories of this, that or the other.
In doing so, we began sharing more personal information. Matters close to the heart. At one and the same time, we would periodically break into laughter over something: my attempt at speaking a little Kinyarwanda and how I butchered certain words; a story about the time a moto (motorcycle) driver had stopped to give me a ride, and as I was about to hand over the fare, I told him I wanted to drive the moto and he could be my passenger, and he agreed but as we drove by the National University of Rwanda in Butuare my boss was driving in the opposite direction and his eyes about popped out of his head at what he saw whiz by; and so on and so forth.
The point is, we spent a fair amount of time with Emmanuel, and we got to know him fairly well. It got to the point where I greatly looked forward to seeing him each time we headed up the mountain from Butare to Murami, and it was always a joy to see him walking down the street towards our agreed upon meeting place or already sitting at "our table" on the grounds of the restaurant mentioned above.
I think Emmanuel considered as friends as well. That was particularly true, I believe, after we came through for him and honored our promise to help him retain control over his story.
When I heard that Emmanuel had died, I actually felt very mixed emotions. I was saddened, of course, by his demise, along with the fact that I'd never be able to visit him again. At the same time, based on what he had shared with us, I also figured that in the end, his death meant the end of his daily suffering. And finally, if there is a Heaven, I imagined in my mind, Emmanuel's reunion with them. It would have to be, I mused, one of the most glorious reunions to ever take place in Heaven.
While I am not going to relate Emmanuel's entire story here (you can find it in the book that Rafiki and I had published by Rutgers University Press in 2012: We Cannot Forget: Interviews with Survivors of the 1994 Genocide in Rwanda), I do wish to share a few stories about him that speak to the horrific pain he lived with day-in-day-out until the he died of lung cancer in 2011.
Of course, what he experienced and the pain he suffered was his and only his. Be that as it may, it does speak to the ongoing pain that many survivors of genocide likely suffer. A pain that never seems to recede. A pain that is as much a part of a survivor who has suffered and/or witnessed horrific butchery up close as his tongue, fingers, feet.
Always, a quarter to half way through each interview Emmanuel would ask if we would purchase some cigarettes and a glass of brandy and a glass bottle of lemonade for him. When he asked for such, we knew it was time for him to take a break. While we obtained the drinks for him, he would get up from where we were interviewing him (off the grounds of the site of the Murambi genocide due to the fact that the new director of the museum in 2008, who had not experienced the genocide, would not allow Emmanuel to be interviewed on the grounds, for whatever reason he had).
Almost invariably, that quarter to half way point had already resulted in Emmanuel going silent and weeping after having related a particularly horrific and/or moving story. Many times, it involved a story about his family – the horrific deaths they suffered, his loss of them, his torment that he was forced to live out the rest of his life without them (it was telling that his torment was not relieved by the fact that he had remarried and had a baby with another survivor).
We would both ask Emmanuel if he wished to quit for the day, and sometimes he did and sometimes he didn't. But even on those days when he insisted on continuing, it wasn't long before he chose to call it a day, frequently because he felt so sad, he could hardly talk.
When the director of the memorial site at Murambi happened by the restaurant where we always interviewed Emmanuel as there were tables and chairs on the grass of the grounds and it was a convenient place to meet, the director interrogated (that is exactly what it was versus a pleasant inquiry) what he was doing with us and what, exactly, was he talking about. It bothers Emmanuel immensely, but he simply answered the director and left it at that.
 Emmanuel also informed us that the director of the memorial site had told him that he was not to talk to any of the visitors unless they spoke to him. Not a word.
It seemed (and continues to seem) not only a very odd way to treat a fellow human being, but an extremely cruel way to treat a man who had lost his entire family at Murambi in a genocide. Did that bother Emmanuel? Yes. Terribly. To the point where he said he no longer felt comfortable on the grounds. Still, that did not prevent him from continuing to appear each time a group of visitors wanted to tour the grounds, the old school rooms where skeletons, covered in lime, of hundreds of the dead were sprawled out on low tables – 50 to 70 to a room – over some 20 plus classrooms.
When the director saw Emmanuel selling some of his interviews to visitors at the Murambi site, he chastised him, and told him he was not allowed to sell on the grounds. Perhaps there was a good reason for that, but then perhaps not. To me, it seemed extremely mean spirited. Almost spiteful, really.
At some point, I asked Emmanuel why, in fact, he would even want to be in such a gruesome place, where the skeletons of many of his friends – skeletons whose skulls were splintered and cracked open, some with gaping holes from the violence they suffered; skeletons that, in some cases, still have a necklace hanging from their necks or tufts of hair on the top of their skulls – and where life size photos of his entire family, minus him, completely and solely fill the walls of fair sized room with the museum, which stood on a hill overlooking the aforementioned classrooms.
His response, in his low key away, his eyes heavy with sadness, about ripped my heart out: "It's the only way I can be with my family. The only way I can see them. The only way I can feel less lonely."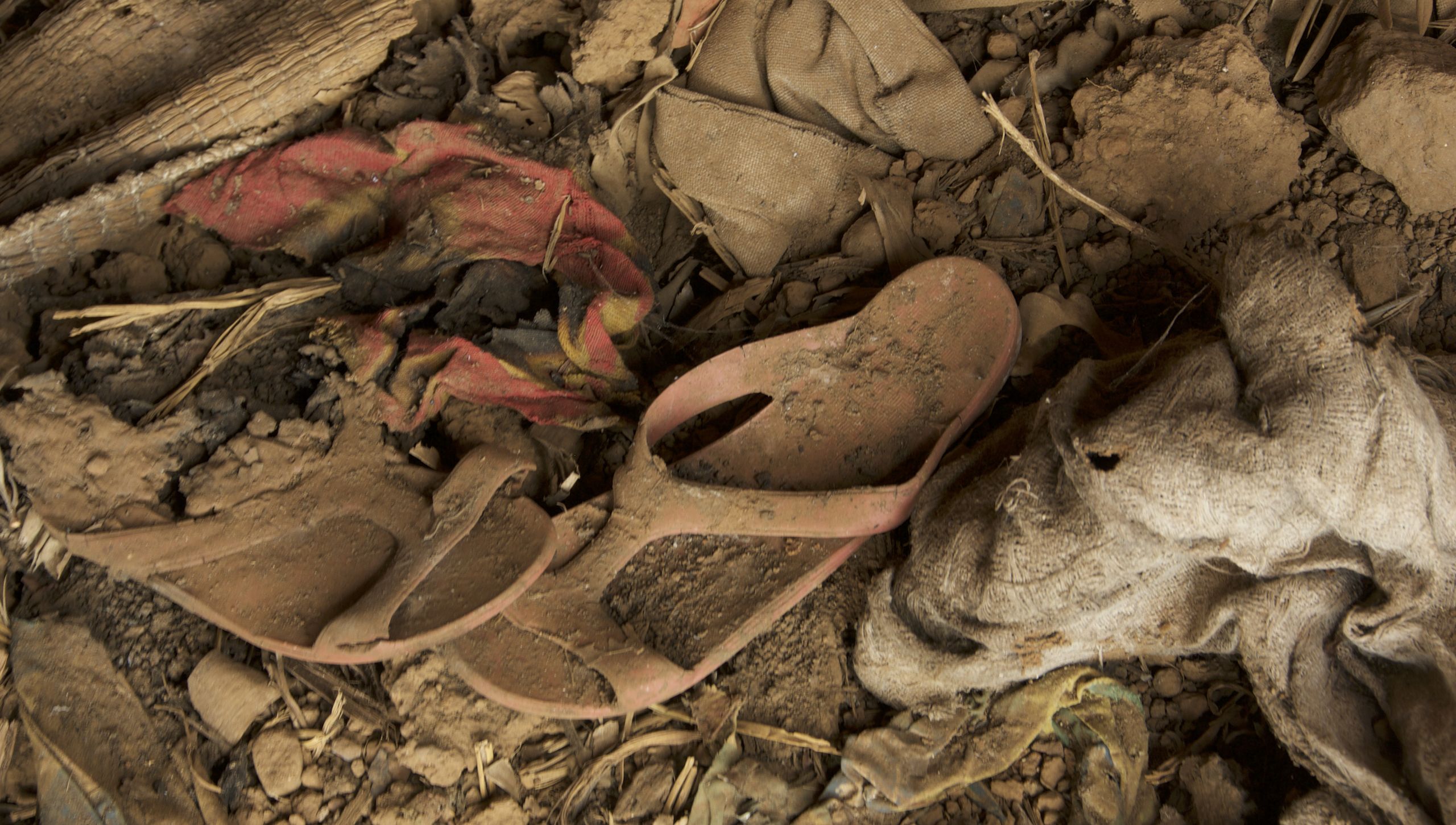 Pies descalzos*
In the desperate escape
I lost one and then the other
I left them somewhere unknown
That I will never see
Where I will never be

Now dirt covers my feet
Feeling the grass, the mud, the blood…
The wet ground,
That I cannot see
As the night is dark
And the hearts are cold
But I still try to breath

Barefoot I run, barefoot I stand
And barefoot… I disappear.
And now they are empty,
Are dusty and gone,
And soon I will be forgotten
And no one will know that I am broken.

Irene Victoria Massimino, Buenos Aires, Argentina, March 17, 2019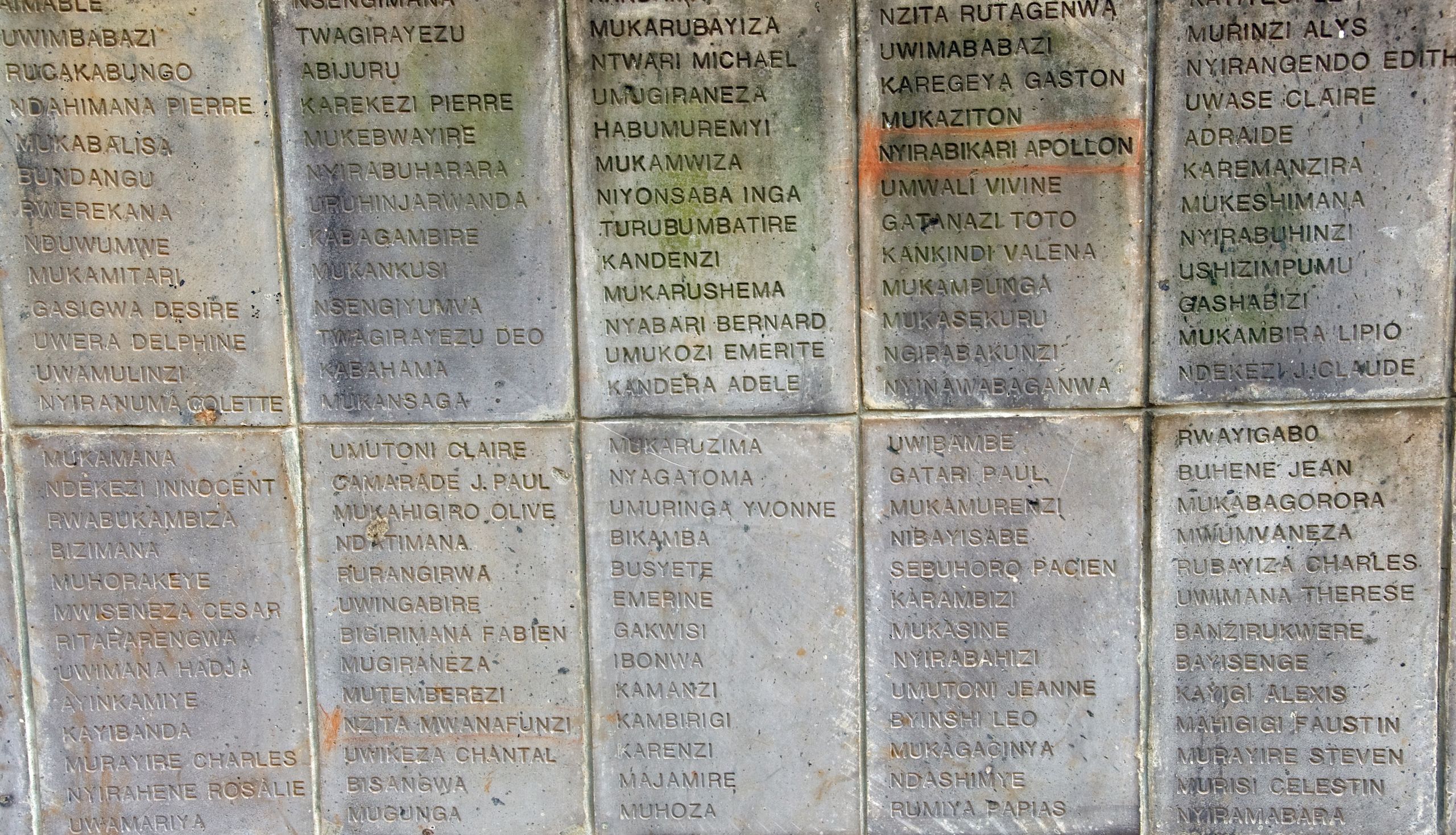 Names

By Paul Slovic
   "… (in war) the first step away from a person's name is the first step toward killing him without thinking too much about it." (1)

Listing victims' names has special importance. A person's name identifies them as a fellow human being, whose life, like our own, is important. The high value we place upon individual lives is demonstrated by the strenuous actions we often take to protect single individuals, sometimes strangers, who are in danger, even when doing so poses great risk to ourselves. The individual does not even have to be a human being to engender this respect and protection. Some years ago, a boat was stranded near Hawaii due to engine trouble. All the passengers were evacuated from the vessel and then, unattended, it drifted away. Someone remembered that there was a dog left aboard the boat, with a name. Some $300,000 was spent to locate the ship and rescue the dog.
I'm a psychologist who studies how we value human lives and decide when to act to protect them—or not to protect them. We call the great importance that we place on protecting individual lives the singularity effect. Opposite singularity is a response, psychic numbing (2), which happens when the threat is great - many individuals are at risk - and the information about the threat to their lives is communicated to us not with their names but rather as statistics. What we have learned from experience as well as from scientific research, is that it is hard to appreciate the humanity that numbers represent. As someone aptly said, "statistics are human beings with the tears dried off". Another similarly observed "One man's death is a tragedy; a million deaths is a statistic".  These oft cited expressions convey a harsh insight into what psychologists have described as a flawed and deadly "arithmetic of compassion". In contrast to individual deaths, which are emotionally wrenching, numerical data are numbing in that they fail to spark the feelings and emotions that are needed to motivate us to act. Nowhere was this more evident than in Rwanda, where the information communicated about imminent, and then actual, genocide was not deemed important enough to motivate intervention.
This bias in our humanitarian accounting has been documented in numerous psychological experiments on life-saving behavior, showing that our intuitive feelings—which we trust to guide us in making all manner of decisions—are innumerate. As the number of lives at risk increases, an effect called "psychic numbing" begins to desensitize us. A single life at risk is tremendously concerning to us, even more so when the person is named. But that life feels less valuable to protect if it is part of a larger tragedy, with many lives endangered. You probably won't feel any more concerned learning about a threat to 88 lives than you feel about a threat to 87 lives, unless you pause, do the math, and realize that there is one additional, and valuable, life at risk. Even worse, in some cases, the more who die, the less we care. As the numbers mount, our feelings of compassion may collapse entirely.
Listing the names of the deceased is important as it honors their memory. But it is important as well in another way. We can prevent and halt genocides, but the first step is to care enough to make the hard and often dangerous effort this requires. Names are important in this regard. They remind us that, when informed of imminent or impending mass atrocities, we must think of the individuals at risk, with names, faces, families, and valued lives, like our own, so as not to be lulled into complacency and inaction by the numbing arithmetic of compassion. To paraphrase what someone once said about the Holocaust, "It's not that there were six million Jews killed by the Nazis, but rather one person, killed, again and again, six million times".
And that person had a name.
(1) Nick McDonnell, "The Bodies in Person: An Account of Civilian Casualties in American Wars". New York: Blue Rider Press, 2018, p.4.
(2) http://journal.sjdm.org/jdm7303a.pdf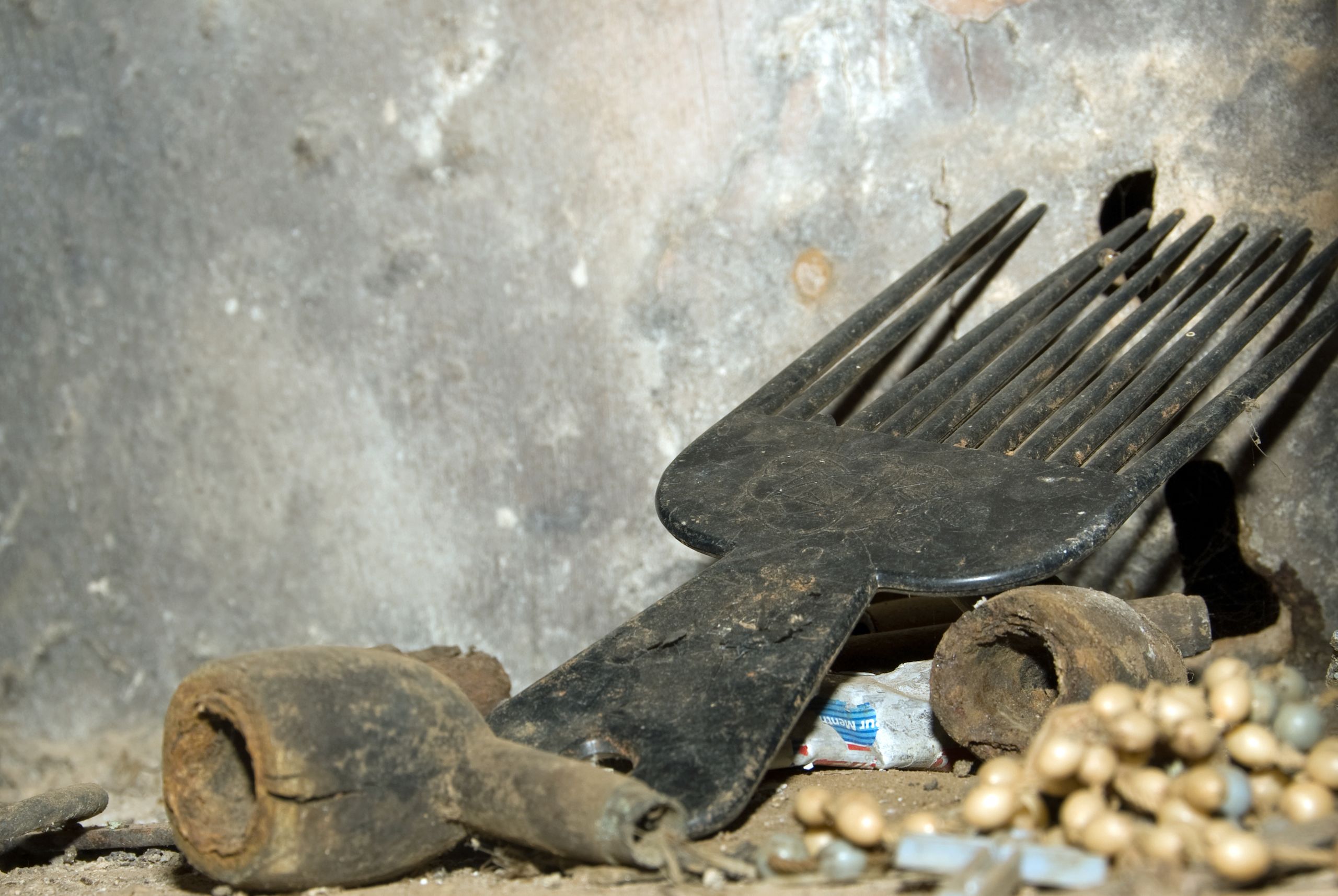 Against Forgetting

By Leicy Olsborn Björby
And yet the sun rises to welcome another day…

This photograph depicts objects that were left behind. Objects that were separated from their associates but later rescued to be preserved. Objects left behind.
The year of 1994 I was 17 years old. In early June I was sitting on the veranda together with my father. Outside you could hear the bees buzzing, you could smell the roses and the sun was shining. It was a day like any other summer's day in Sweden. Five minutes later, on that same veranda my father was clutching his heart trying to breath. The bees were still buzzing, the roses still fragrant and the sun still shining, everything the same as before, except …
We always strive to understand. As if understanding would help us accept the occasional horrible facts of life.
If we could just understand why, how come and so on. To understand… to perceive the intended meaning of something.  But what if there isn't any meaning or at least not a meaning that is understandable from a human point of view.
For many years I tried not to forget. Not to forget my father's voice, his smile, his laughter, his warm eyes, his hugs… When I realised, a few years after, that my mind started to fail me, I panicked. Desperately, I tried to recall the things with my mind, but no matter how hard I tried…nothing.
The objects left behind help us to protect and cherish memories of time. I look at this photo and I think that maybe the objects depicted on it also strive for the same thing. For us to remember, for us to not forget.
It is difficult to remember things that you, yourself have not experienced.  That you yourself, have not been affected by, in one way or another. I believe that the things we remember are the things we have experienced, in one way or another. That is why these objects, these memories left behind are so important. Because they help us to not forget, they help us remember the things our minds neglect, they help us. Just like my father's shoes that I still keep in the hall by the front door helps me remember where I come from.
The things that surrounds us are not just things, they are connected to our life and our history, and they bear witness of our memories.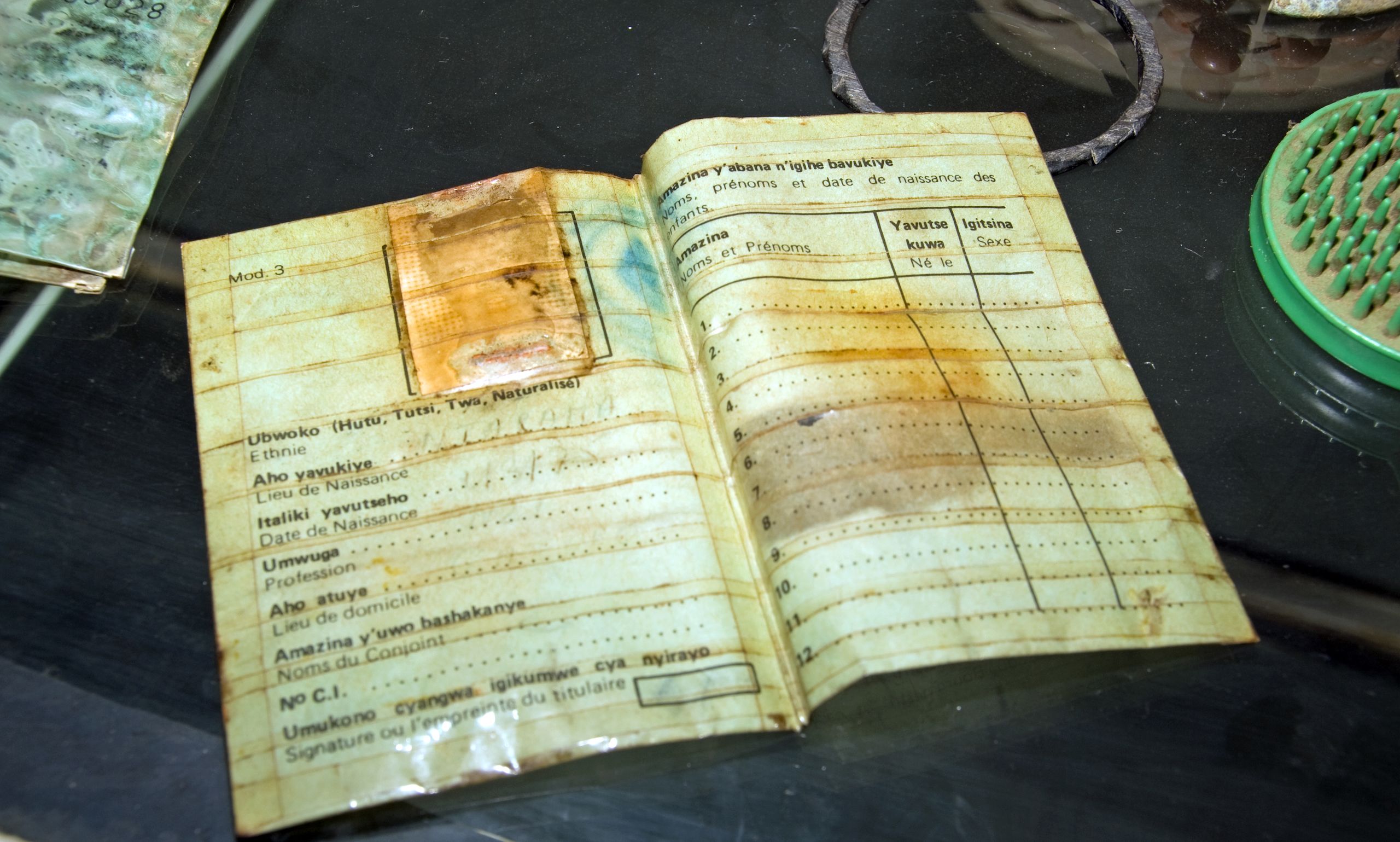 A Photograph as Aide-Mémoire

By Tanja Schult
I should comment the photo with the clothes. Or the one with the red sandals. After all, I am a scholar of Holocaust memory.
These photographs remind me of images I have seen, which I have written about earlier. The piles of clothes on display in Auschwitz-Birkenau. The art of Christian Boltanski. The colour red, again, and again, as in Steven Spielberg's Schindler's List; the little girl with the red coat. The alarming red, in the sea of grey in grey – the faded red of the sandals among the earth-coloured gravel and rags in Rafiki Ubaldo's photograph. And compare them with Mikołaj Grynberg's photo series from 2009: Auschwitz – what am I doing here?
Asking what we are doing here, again – after Auschwitz, the benchmark that was supposed to teach us a lesson, preventing new genocides.
We are still faced with a reality that constantly produces similar images, testifying to events that should not have happened.
I choose the ID.
I couldn't help it. A few days before Rafiki asked me to participate in this project, I received my Swedish passport. I was full of joy and excitement. I had become a Swedish citizen two years earlier, but it was only now that my German passport had expired. I had lived in Sweden since 2002, and as an EU-citizen, I did not encounter any problems. It was the rise of the right-wing party which made my wish to become a Swedish citizen urgent. I wanted to vote in the country where I lived and worked, where my children were born.
When I applied for the Swedish passport, the officer with a Lithuanian accent called upon her colleagues to look at my antiquated ID. They had great fun passing it around. Once a border policeman – was it in South Africa or Canada? – had rescued my passport from falling apart. A black tape held it together. This made the passport look as if it was in mourning. It had been simply used a lot – whilst travelling, but I also had to show it each time I picked up a parcel at the local super market. I still think about the many moments of embarrassment when the employee refused to hand out my ordered books or sons' birthday presents, as she was convinced that only a Swedish ID would allow me to pick up what was mine.
All this would now be just memories.
When I collected my Swedish passport, no officer fitted into the stereotype of how a Swede looks – blond and blue-eyed – but they were all very friendly. All these people were fluent in Swedish, with more or less prevalent accents. They worked at a public authority, the police, gladly handing over what was now mine: the beautiful passport; only a handful, with pictures showing exceptional buildings from all over Sweden, from Malmö's Turning Torso over Stockholm's City Hall to the church in Kiruna. "Welcome, enjoy!", said the female police-officer, amused about this middle-aged woman's excitement. All I could think of was that the next time I arrive at Arlanda airport, the border-police would greet me with "Hej" instead of "Hello'". And I smiled for days.
On the trip that followed, from Sweden to Germany and back, no one asked me to show my passport.
A few weeks later, I am waiting in Arlanda. My eldest son had been on a school-exchange in Bristol.
His flight was delayed.
I hear a young woman talking on the phone.
She is asking a border police-officer to let the person in question pass. All the information is in the letter the person has with her.
Her voice is calm, friendly, determined. She sounds so much older than she looks. Her English is excellent. Patiently, her boyfriend waits with her.
When the sliding door opens, the girl's mother comes out.
The daughter embraces her.
She is crying. Crying, crying, crying.
She does not release her mother.
They hold each other as tight as possible.
Both are black.
After quite a while, the boyfriend joins them.
Then my son comes out, a little surprised that his mother is crying.
I feel grateful that our only problem was that his flight was delayed.
At that moment, I realised the efficacy of art. Die Wirkungsmacht der Kunst.
I had used Bouchra Kahlili's exhibition The Opposite of Voice Over, during a few seminars, to talk about political art in the white cube with my students at Stockholm University. Her show was on display at Färgfabriken in Stockholm in 2016. We discussed whether the gallery space prevents art from acting politically or enhances this possibility, offering a sanctuary where difficult subjects could be confronted without one being exposed to any threats. And the ways in which we could measure how art works; what it does.
We spoke about Khalili's Speeches Series which revolves around citizenship, identity, and nationality. One of her videos is about a young woman who had come from South America to Italy. I still remember how this woman, in what to me seemed flawless Italian, recounts how people question her affiliation to Italy, the country in which she lived, worked and paid taxes. Ten years of working life leads automatically to Italian citizenship according to the country's legislation, as the woman says in the video. She lists her possible emotions when becoming a citizen of the country where she had worked for the last ten years. In a very neutral tone, she dismisses all these possible reactions, ending with: Only because I am.
Her existence should entitle her to citizenship, should suffice.
 Her face and spoken words have remained with me ever since.
 They came up to the surface again in Arlanda, whilst waiting for my son, overhearing the conversation of the young woman; watching her holding her mother, as if they were meant to be one again.
Rafiki's photograph. What does it show?
An opened document. Much used. The edges taped. Also, this ID is held together so as not fall apart. It is as if I can feel the plastic surface of the tape under my fingers. This anticipated feeling causes rejection. An ID belongs to a human being. The plastic covering turns this object into something clinical, arouses associations with hospitals, or morgues. On the upper right, the remains of a photograph – almost gone. The texture is reminiscent of a plaster. Underneath, as if covering a wound, one can make out a face, or what is left of it. Short hair. Maybe a man? The blue colour of the stamp next to the photo is washed out. Burn marks to the right.
Clearly legible are the categories organising this official document. They are printed in Kinyarwanda, I believe, and in French, pointing to the country's colonial legacy that enforced the ideas on race, promoting Tutsi supremacy, laying a seed for what was to come decades later.
All information on the person who once owned the ID is bleached out. Hardly any text is visible. Place of birth – could Rafiki identify the letters? Date of birth – is it 1975? A man about my age? Where is he now? Where was this photo taken? Who keeps it? Who will tell of the ID owner's fate? His children, if they survived.
The yellow, bleached out ID lies on a black surface among other items I cannot make out.
The image of the ID causes me unease. It confronts me with my lack of knowledge; displays how little I know about what happened in Rwanda, and how people live there today.
When I taught Holocaust history at Uppsala University, I was exposed to a new situation. I had taught the subject earlier; in my classroom were descendants of Holocaust survivors and perpetrators. This time it was different. Among my international students were people from Rwanda who had actual personal experiences of a recent genocide. One of them was Rafiki. I realised that I had to change the way I taught the Holocaust. And that I had to widen my perspective and ask what led to the Holocaust, not only in order to understand the genocide against the European Jews, but also what has followed ever since. There is a history, which led to the Holocaust and impacted not only Europe; and which created a set of ideas that still defines to a large degree how we see the world. Everything is entangled, historically, and in the present.
I am writing these lines just before leaving to meet colleagues in Belfast. We will work on a research application on migration in a changing Europe, and the role art can play in this context, underlining that migration is not a one-sided but a mutual process of people moved by people on the move.
The meeting was scheduled for March as the organisers feared that Brexit might create problems for us coming together later. The European Union had received the Nobel Peace Prize in 2012. Four years later, their achievements were all too easily abandoned.
As a consequence, privileged people like myself collecting citizenships.
While others have none.
And for some, not even the surviving ID tells of the fate of the person who once possessed it.
Rafiki's photos remind us of what we promised not to forget.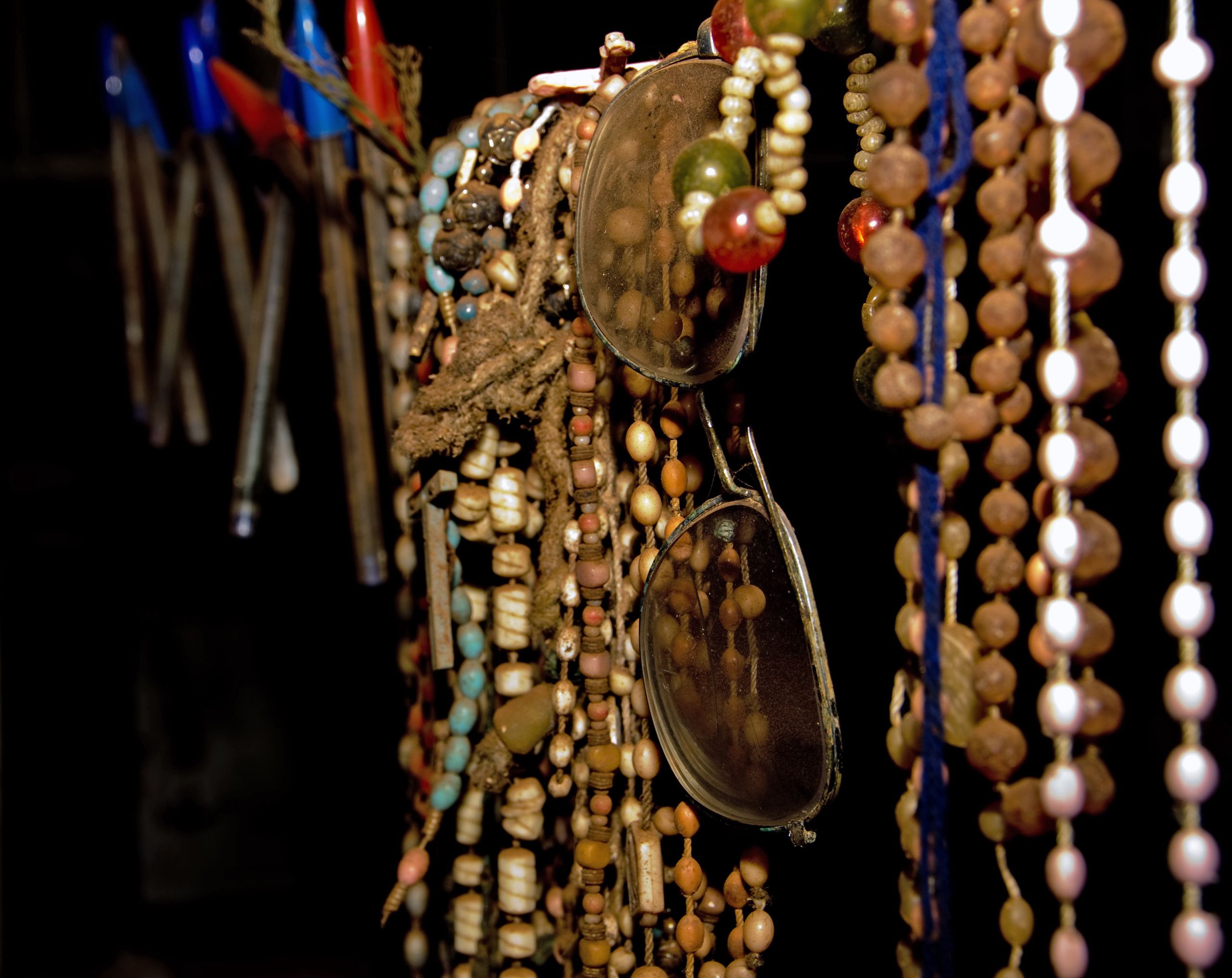 "One. Only One"

By Mark Gudgel
Several years ago now, I was asked to write an article for Teaching History: The secondary education journal of The Historical Association in the UK. The article was to be about Rwanda and, more specifically, about how secondary classroom instructors might go about teaching their students what happened in that country in and leading up to 1994.  I was eager to do it. The best-known and most widely-used source for teaching about Rwanda in the United States where I am from – and quite likely most of Europe and beyond, is the 2004 film, Hotel Rwanda, the accuracy of which could politely be described as disputable. I wanted to provide teachers with fresh ideas and resources for digging deeper into Rwanda than merely showing a fictionalized account of events taking place between April and July of 1994. I wanted to encourage teachers to, as Elie Wiesel once encouraged me, "Think higher; feel deeper."
To that end, I authored an article that offered some historical context for 1994, provided a recent timeline of events leading from colonization to the present, and included some relevant geographical information. I encouraged teachers to examine their rationale for teaching about the subject in the first place, steered them toward what I felt were reliable, accurate resources, and begged them to contextualize the 1994 genocide within a broader context of the history of a nation, and not as the defining event in that nation's history. I also tackled the topic of numbers.
In the case of World War II, the number six million is used consistently when it comes to the Jewish victims, while the number eleven million is utilized with nearly the same degree of frequency when including the non-Jewish victims of the Nazis. However, while recent scholarship by Yahad in Unum and others is leading scholars to believe that the first number may indeed be underestimating the actual death toll, the latter figure is, though widely referenced, rooted in little more than tradition and conjecture.  Five million was a number invented by the late Simon Wiesenthal, himself a survivor, that has since been widely disputed by reputable historians such as Yehuda Bauer and Deborah Lipstadt, amongst others. Similar to these ongoing debates, in the case of Rwanda, the estimates as to the number of dead fluctuates wildly depending upon what sources one uses.
In my article for Teaching History, I referenced a 1996 survey conducted across prefectures in Rwanda which estimated the death toll of the genocide to be 1,364,020.   I cited a statement by SURF – Survivors Fund, a UK-based charity, that pointed to a report estimating the number to be as high as two million. I cited a 2010 AFRICOM report that put the number at 500,000. And I credited the BBC, the United Nations, and countless textbooks published in America for perpetrating the unsubstantiated figure of 800,000 widely, unabashedly, and without ever citing sources.  Clearly, the number of victims of the 1994 genocide in Rwanda seems somehow to remain in dispute even twenty-five years after the Rwandan Patriotic Front liberated the Land of a Thousand Hills from the genocidaires and the French forces in the south who sought to prop them up.
With the number of the dead being so widely disputed, I have in my teaching begun to take an alternative approach, suggesting that only two numbers of very real consequence remain. The first is the figure one million, the number used most commonly in the nation of Rwanda today in reference to the victims of 1994. In Rwanda, one will see this figure printed regularly in The New Times, as well as utilized at most memorials, and spoken amongst those few who endeavor to discuss the topic.  The second number – and in my opinion the most important of all, is the number one.
One.
As a scholar, it becomes far too easy to get caught up in fruitless debates, far too common to miss the forest for the trees. Yes, facts do matter, but sometimes facts are lost to history, and just as often the point may be obscured, deliberately or otherwise, by those who appear more devoted to winning an historical debate than they are to be informing, educating, and remembering.  If the Rwandans collectively have accepted the number one million, as they plainly appear to have done – a figure which rests soundly between the extremes of the estimates which are sometimes used, then I would suggest the rest of us proceed with caution, and only when new evidence is unearthed, in debating that figure. I would then shift my focus to the number one, and I encourage my fellow educators and my students to do the same.
One.
One is the number of people that I, myself but one, can focus on at a single time. When I speak to audiences, no matter what I say, it is impersonal for the fact that those listening are many. When I write as I am now, it is for groups even more broad than those to which I speak; it is to people whom I will, for the most part, never meet. But when I sit down with a cup of coffee, rich and acidic from having been grown in the volcanic soils of the Virunga Mountains in the north of Rwanda, with one other person, I immediately connect to them; I can look into their eyes, feel the warmth of their palm in my hand, hear their unique voice, and begin to know them better – begin to know them not as part of the human collective, but simply as one.
Thinking of people one at a time also helps those of us who are seeking to better fathom or teach about genocide to do so. When we consider the victims of genocide, be it in Rwanda, Armenia, Bosnia, Poland, or elsewhere, as individual human beings rather than factors that contribute to a greater whole or larger number, we are reminded of the fact that tragedy is personal. Every individual who dies is a son or a daughter; they have families and friends, they have favorite foods and pass times, they have value and worth unto themselves inherent in their humanity.  It is only in examining the lives of individuals that we may come to fully comprehend why genocide is tragic, not for numbers but for what is lost, one at a time, as people perish.
Abel Herzberg, himself one survivor of the Holocaust, notably said that "There were not six million Jews murdered; there was one murder, six million times."  It is in this way that we must understand the Shoah, and it is in this way that we must come to understand 1994 as well.  Whether the lower estimates or the higher estimates or – as I personally suspect, the number one million, are closest to being precise, we must never forget that what we are arguing over are human beings – souls, tiny universes unto themselves, whose lives were, each one, one by one, ended prematurely when on April 6, 1994, genocide broke out in Rwanda.
Something as uncomplicated as a pair of glasses can serve students and their teachers alike as an important reminder of these harrowing realities.  Only an individual – one – wears a pair of glasses, and they only wear one pair at a time.  Similarly, an individual might write with only one ball point pen, or pray on a rosary – one rosary, one individual, one moment of prayer, a single Rwandan in an act of religious observance.  
Items such as these, and countless other examples, remind me of Arcade. They remind me of Jado and Damas, they remind me of Immaculee, of Freddie, Albert, Jean-Damascene, Biggie, Aimable and many more individual human beings in Rwanda whom I have come to know and love. They remind me also of my children, of my wife and of my parents, of my friends and neighbors, of my colleagues and students. All of these wonderful people and uncounted more are precious to me, not as part of a collective whole which might be counted, but rather for who and what they are unto themselves.  They are the wearers of glasses, the users of pens, and the prayers of prayers, each one.
When I speak of Rwanda, whether it is to my own classes, an audience at a university, or to friends in my own living room, I always find a place in which to emphasize that Rwanda is not a genocide. I'm quick to remind people that what happened in 1994 was certainly genocide, but that Rwanda must be understood as a nation, not as an event. Rwanda is a place of startling geography, rich culture, deeply rooted traditions, unique and wonderful cuisine, fascinating and complex history, and most of all, incredible people – one, and then another, and then another. Whether we are teachers or travelers or merely fascinated from afar, Rwanda must be understood as a nation of people, just as the victims of the 1994 genocide must be understood first and foremost not as part of some ambiguous and argued-over collective statistic, but one by one, as our fellow individual human beings, the wearers of glasses, the users of pens, and the prayers of prayers, each one.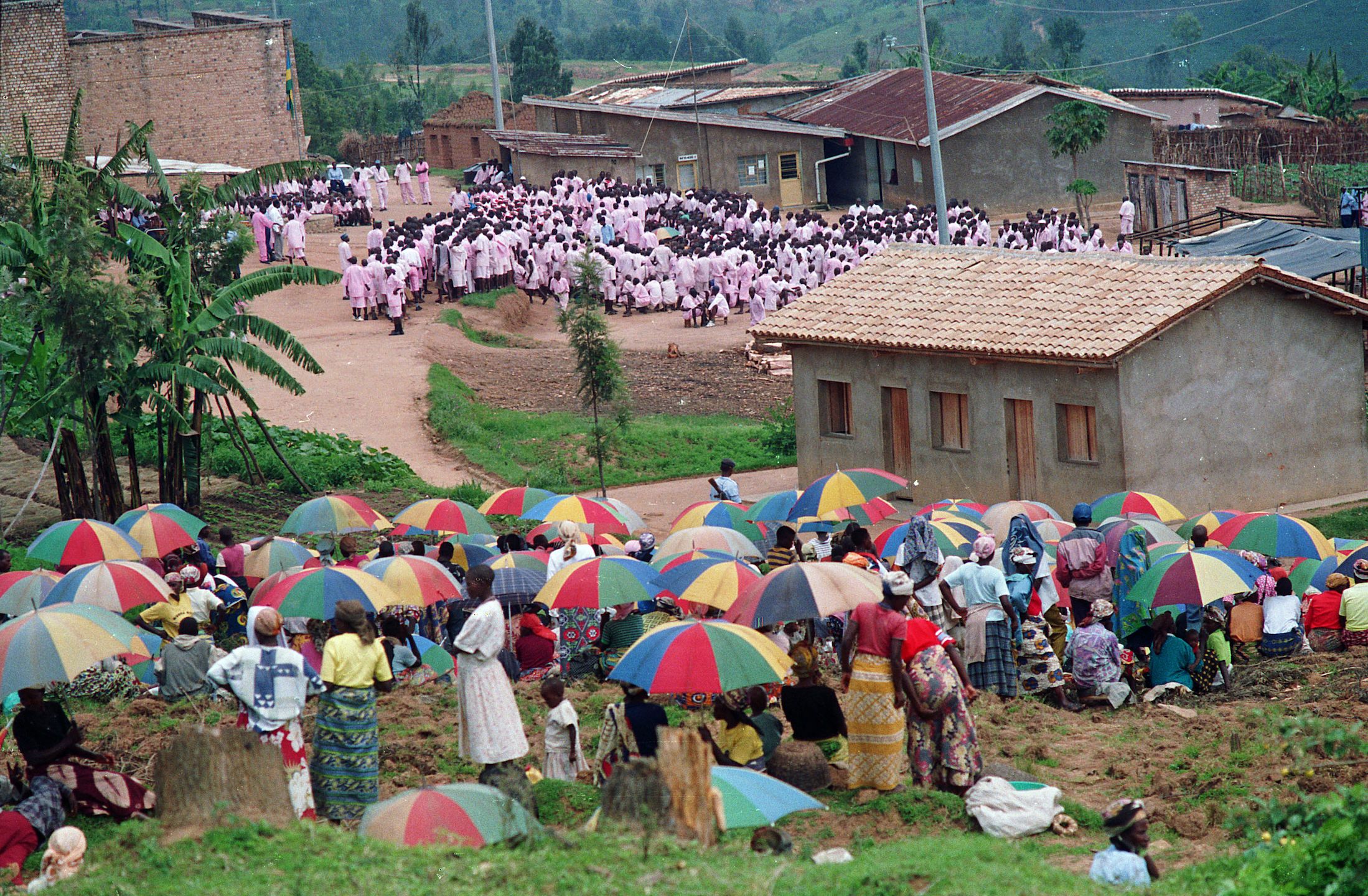 Post-Genocide Rwanda: Long Journey to Recovery

By Charles Karangwa
This photograph reminds me of some post-genocide realities in my country, Rwanda. I see a prison. It is the day the relatives of the prisoners come to visit them.  The majority of the prisoners, if not all, are young and adult men. The people who are visiting the prisoners are mainly women and young girls. This is the reality of our communities.
This prison in placed somewhere in the middle of a rural community. It is not in an isolated location. The members of the community near this prison are indirect collective victims of the consequences of the genocide. Maybe some of them are direct survivors of the genocide.  No need to say how much this situation affects families and communities across the country.
I see umbrellas. It is a sunny day. I see women with babies in their hands, and I remember cases of women who had children outside marriage since their husbands were in prison. On the day of prison visits, these women had to take along the newly born, and it was a source of deep conflicts between the husbands in jail and the wives at home.  
This gathering reminds me of female-headed households, with limited resources and the heavy burden of visiting husbands in jail every week, covering long distances on foot with babies in the back. Maybe some of these women are genocide survivors who had married perpetrators.
When I look at this picture, I remember a discussion among women in a community I once visited.  One woman whose husband was in prison said that the women who survived the genocide were lucky because their children were getting assistance from the Government Fund (FARG) to pay school fees, while those whose husbands in prison were facing financial hardships and many could not afford the education costs for their children. The genocide survivors replied, "If you wish to be in our situation, would you imagine if your husbands were killed together with most of your children, and those who survived are the ones you compare to your children". In the beginning, the discussion was tough, but in the end, both the genocide widows and the perpetrators' wives agreed that the genocide and its consequences affected them all. I believe this was a step towards reconciliation.
In conclusion, this photograph depicts the consequences of the genocide within the Rwandan society. It highlights that the genocide affected individuals as well as the different communities across the country and the journey to recovery is still long.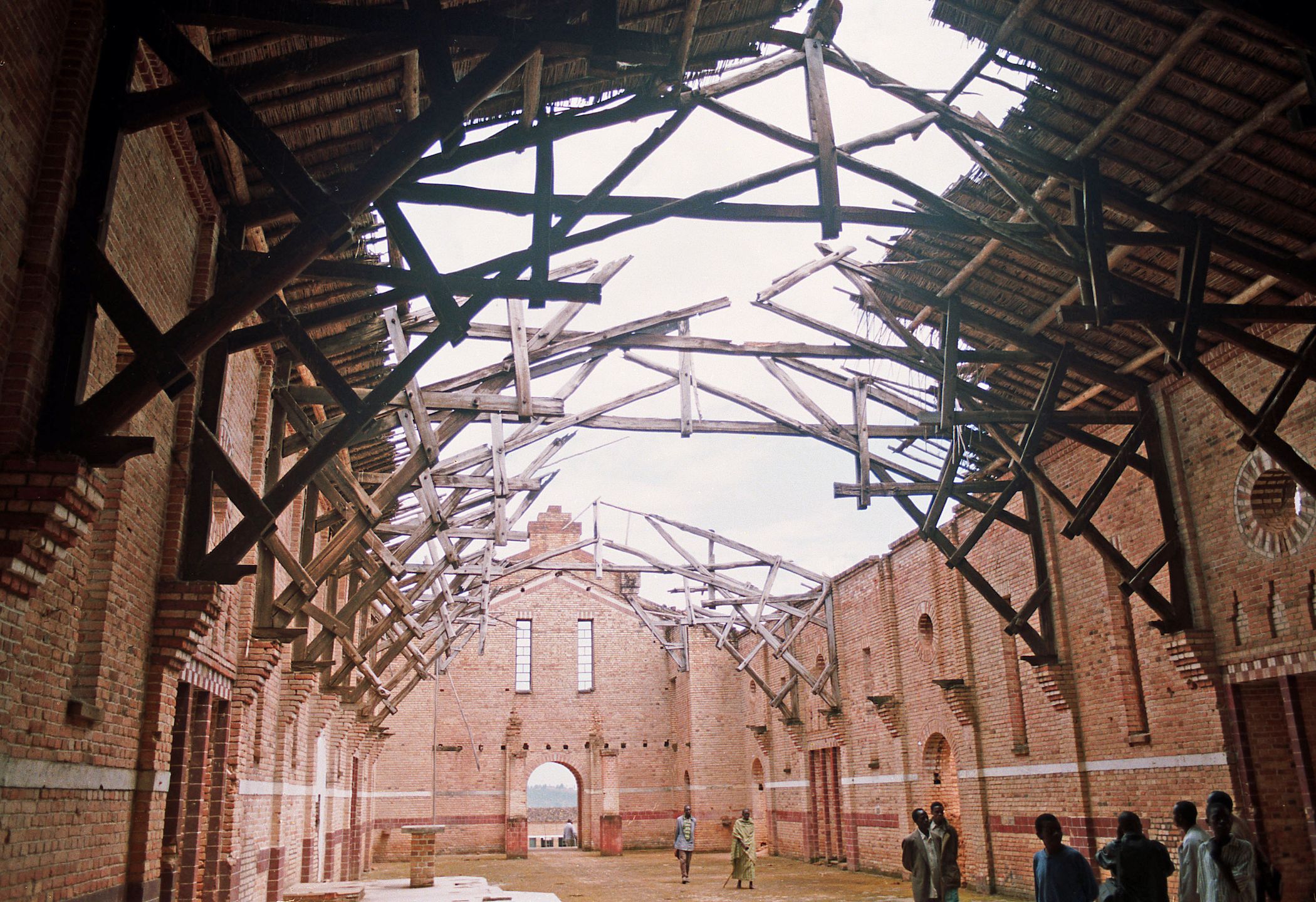 Repentance is not Enough; Forgiveness Is

By Brent Swanson
No longer will they teach their neighbor, or say to one another, 'Know the Lord,' because they will all know me, from the least of them to the greatest," declares the Lord. "For I will forgive their wickedness and will remember their sins no more." (Jeremiah 31:34 NIV

God can and wants to forget, but we cannot. At least we should not. Unlike God, we are myopic. Without reminders, we fall into the same traps. Never Again will remain an adage as long we always forget. Forgetting history is like driving nails into one's own coffin. We allow empires to grow too large to defend and govern themselves. We allow racism and ethnocentrism to become pervasive. Yet, we quickly forget the consequences and we diminish the severity of repeating it. "The times have changed," "we aren't doing the same thing," or "this time we know better," we say, as we hammer away.
But we should never forget how we arrived at the point of crisis, and its deadly results. This is what the victims of the Kibeho church slaughter and their brothers and sisters want to remind us. "We request that the killers do not erase the evidence [of their crimes here]" the sign says in white lettering juxtaposed against a blue background; they are pasted on a purple banner, the color of royalty. It is the same color of the robe that the Roman soldiers cynically gave Jesus before crucifying him. It is also the color of Lent, the time when Christians around the world remember Jesus's suffering and death. Sometimes the official Day of Remembrance of the Victims of Genocide (April 7th) happens during Lent; a reminder of the slaughter of innocents –  the unjust murder of hundreds of thousands of Rwandans and Jesus of Nazareth. The sign hangs under a broken ceiling with a crucifix painted on it, acting as a reminder of another rejection of God's second commandment, and his broken heart.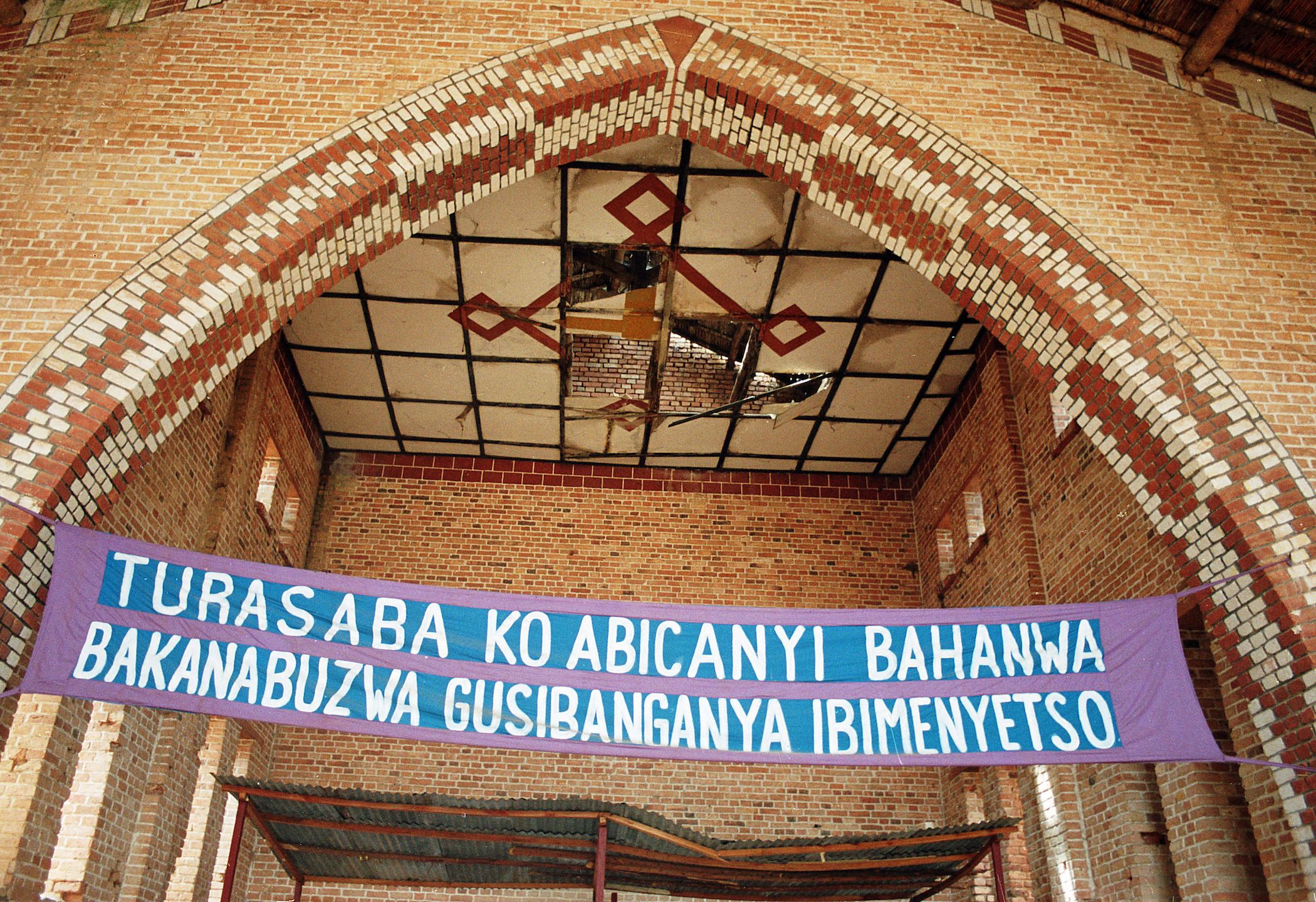 In the Genocide Memorials of Ntarama and Nyamata, we find similar heartbreak. Bloodstained clothes surround coffins of men, women, and children. A machete on the altar rests next to a broken tabernacle that once contained the Eucharist, the body of Jesus Christ, the bread from heaven. It is the holiest place in a church, and to defile the Blessed Sacrament is akin to murder. Yet it is the murder of God's Son Christians remember each mass. This scene is a cruel analogy. God's most feared and trusted Levitical warriors, the very ones he charged with defending his body and blood, betrayed his children, who were seeking refuge from murderers in a sacred space at Ntarama and Nyamata. They walked for miles – exhausted and hungry – looking for solace. When they saw a place to lay their heads in peace, hope came to them temporarily. . As they finally made it through the door, they were welcomed in. They felt a sense of relief and believed that they were safe. They thought: "No one would dare hurt someone in the house of God." But scorn, pain, and death met them, just like the Lamb of God, the Light of the World, who came from heaven to live among his people was met with scorn, pain, and death. They were still cockroaches even in the most sacred places. Unlike Jesus though, these outcasts would not be dying for the sins of the world, nor would they be resurrected in body on the third day. No, they were only human. Not God from God, Light from Light, pure God, begotten of one Immortal being. Their only likeness to the Messiah here is that they were sheep led to slaughter.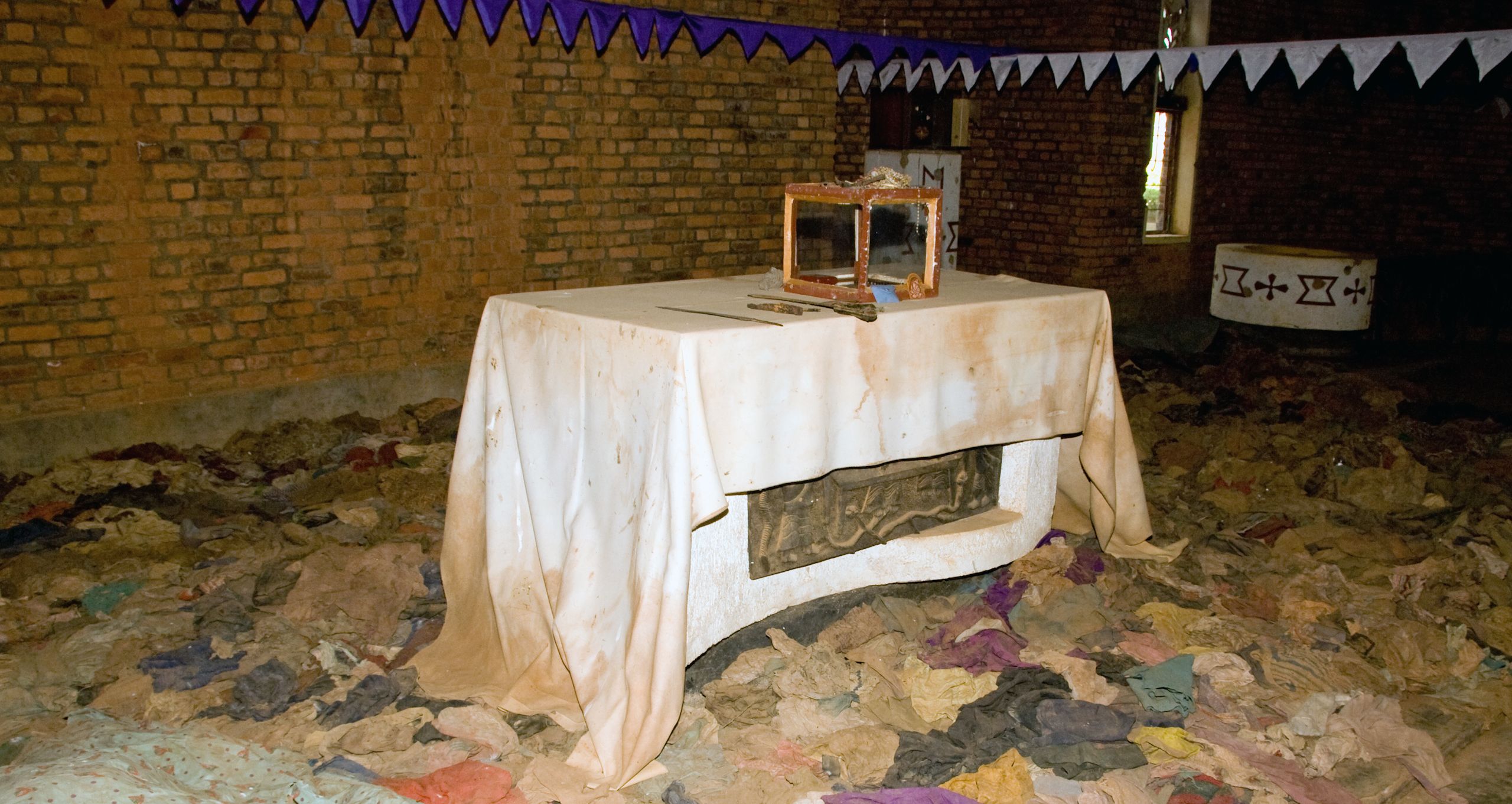 Why does God allow terrible events, like genocides, to happen? Why does he allow babies to be killed, women raped and infected with HIV, and men castrated just because they exist? Why does he not rid the world of evil in the same way he spoke the Universe into existence? Christians worldwide understand that if God is omnipotent, the Alpha and Omega, he is in control of all things. This means he does indeed permit both good and evil to exist in this world. We cannot know why God allows these horrific things to happen, but if, as scripture tells us, God is love, he cannot desire this. In fact, it is his beloved, his bride, the one closest to his heart, committing adultery repeatedly. There are many theologies centered on explaining why God lets his people kill one another, but none are satisfactory unless we look to his promise: that, in the right time, he will rid the world of evil and create a new heaven and earth. There will be no more weeping and languishing. His will shall be done, and everyone will acknowledge him as King, regardless of whether or not they believe or have believed in Him or His promise. Perhaps as God spoke through the suffering and death of his Son, he is sending a message for all mankind. The words draped on the altar at the church in Ntarama carry this message well, "If you knew who I am, and knew who you are, you would not have killed me." We can only hope that because of these horrific killings, people will turn from evil. So that when we remember the hundreds of thousands the genocidiares murdered in Rwanda, we can find peace that, like Jesus, their blood was not shed in vain. Their lives have, God willing, spared us from future genocides, and the brutal nature of their deaths will forever remind us of how easily we can become the very evil that God hates. If we will remember who we are and who our creator is, Never Again will truly be Never Again.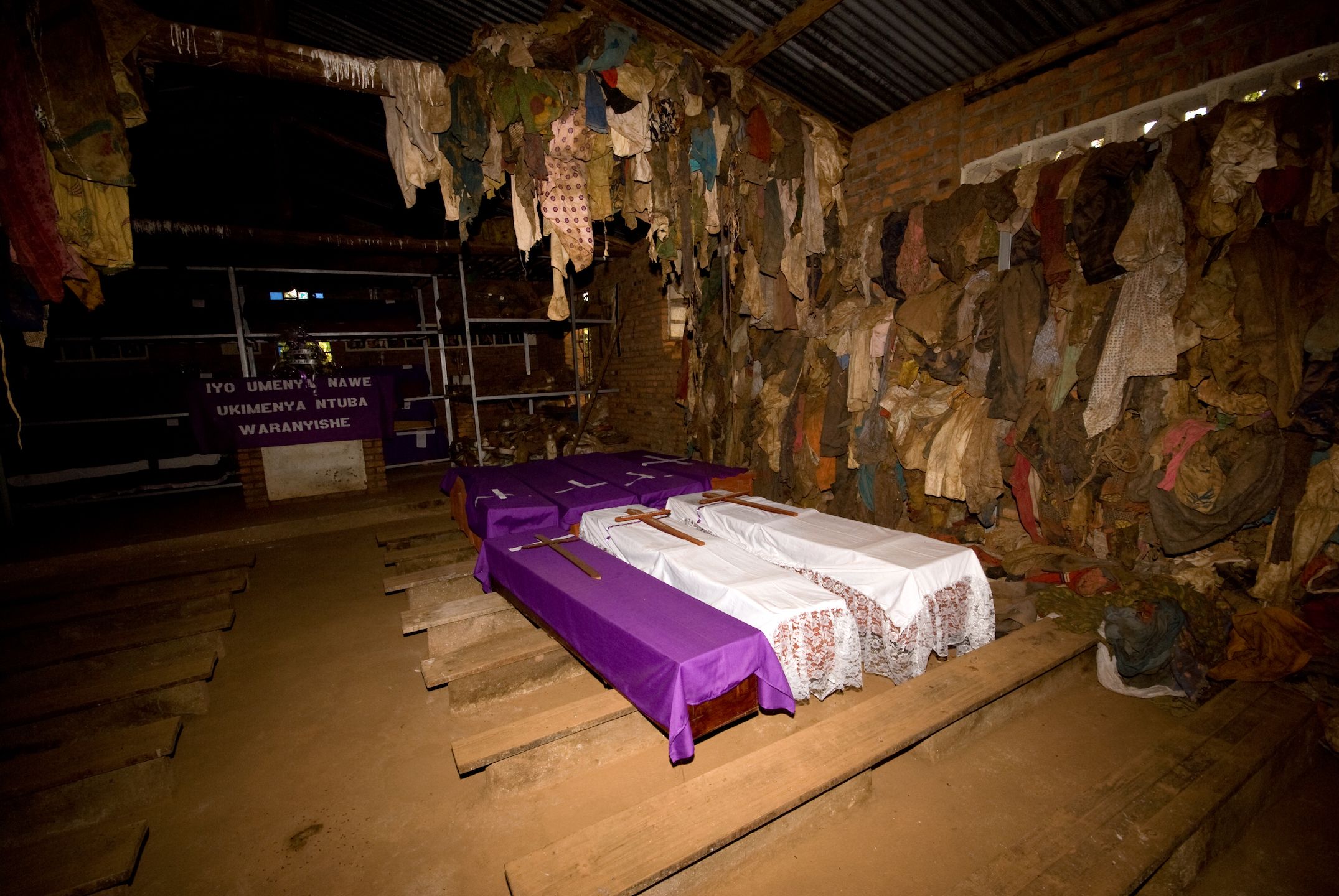 While living without the daily fear of being killed is an important step to peace, it is not defined by avoidance of conflict. The absence of visible evil is fertile ground for the wicked to plot revenge. We must repent of what we have done. Repentance can only work if we work at it. Repentance requires us to lay down our desire for power and lust for revenge. We cannot serve God and earthly power, and we cannot live fruitful lives while in pursuit of things that only benefit us and our blood relatives. Repentance is the key for both genocidaires and survivors alike. For the perpetrators of genocide, they must repent of their desire and actions taken to exterminate those who ruled over them. For the survivors, they must repent of the hatred in their hearts they hold against those who have harmed them and their desire for revenge. We must all turn to God and apologize, as we have all taken part in the murder of his Son. In addition to our inmost thoughts, repentance requires action. There are many visible ways to repent. We can take care of the poor and the needy. We can grant agency to those who lack the ability to speak for themselves. People such as the much-maligned Twa of the Great Lakes region of Africa, and other indigenous peoples around the world who are constantly excluded, because their ways of life do not fit what the rest of us call a modern world.
The images provided here are another way of repenting. They remind us to both repent of our hatred toward our neighbors and our own part in unjust execution of our Messiah. The blood soaked clothes near the altars of Ntarama and Nyamata admonish us. Jesus's blood was shed for all, and it covers all. If it were not for our sins, he would not have needed to die.
But repentance is not enough. Constantly lying prostrate in front of those you have offended is counterproductive. For long-lasting peace and prosperity, there must also be forgiveness. In his final lesson for us, Jesus cried out in pain "Forgive them for they know not what they do." He was grieving both from physical pain – from the nails in his hands and feet and asphyxiation – as well as from knowing he would soon be cut off from the love of his Father. The love that allowed him to keep going for years when being ridiculed and questioned – by his oppressors, peers, and even his best friends and family – would soon be gone. It was the one thing he could not live without. Yet he forgave. When we are brought before God to be judged, we will be guilty, but will be set free because Jesus took on our sentence of eternal banishment. A punishment only God himself could bear. It is his forgiveness that brings us life.
Forgiveness, as my dear friend and Rwandan artist, Jean-Paul Samputu states, "is the most powerful unpopular weapon against violence that exists." It costs us the most: our pride, our racial and ethnic identity, and all other cultural constructs that we use to justify hierarchy among people.  All of this must be erased in forgiveness. Forgiving is terrifying, as it forces us to recognize we are no better than those who hurt us. At the toss of a coin, we will harm our neighbors as they have harmed us. This is especially important for Christians in Rwanda to remember. It was the church who first brought the message of Christ's salvation to Rwanda. It was the church who made Christianity the official religion of the Nyiginya kingdom by baptizing King Rudahigwa (Mutara III). It was the church who paved the way for the European colonists to come and eventually conquer Rwanda. It was the church who allowed the pseudo-scientific codification of Hutu, Tutsi, and Twa.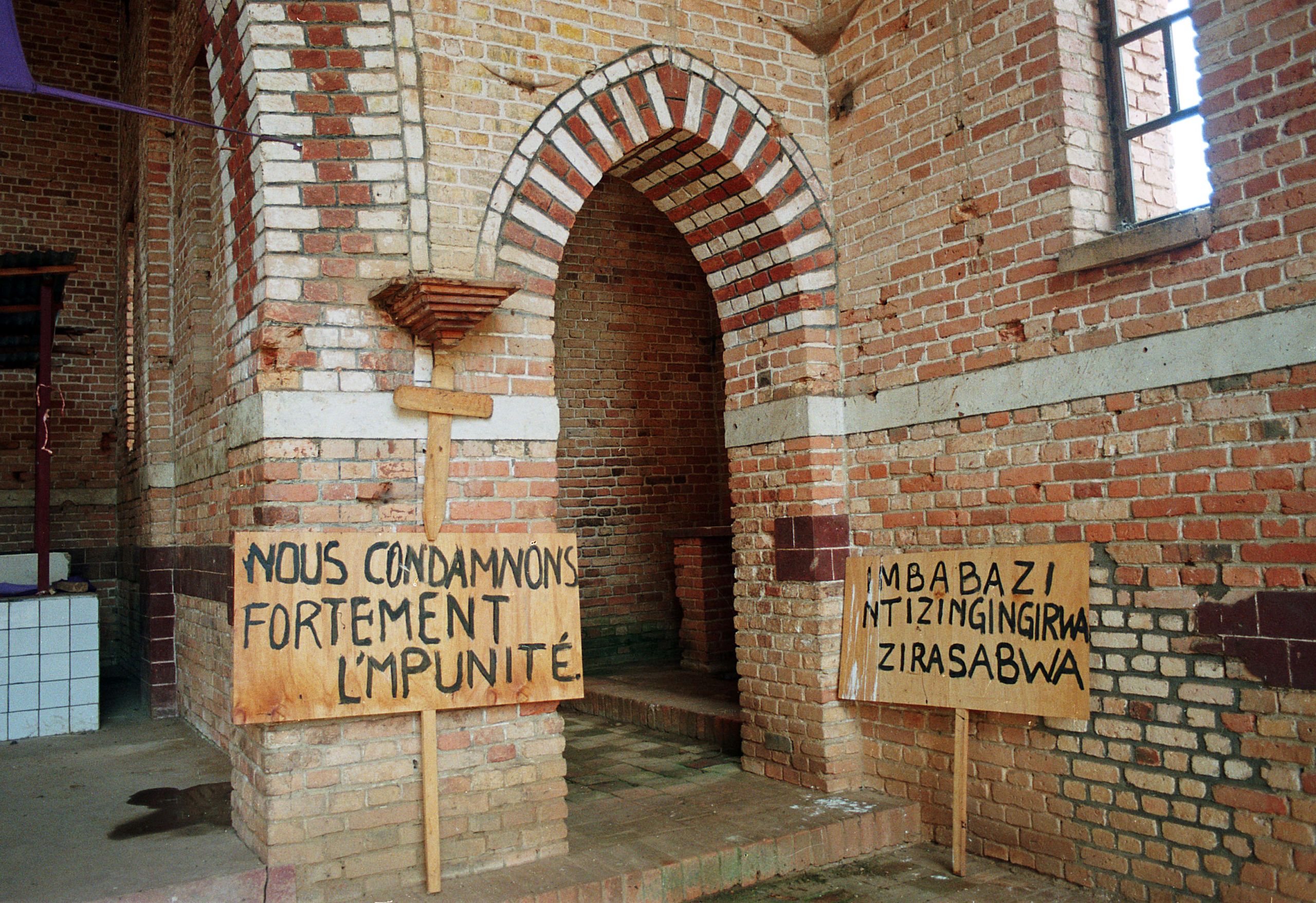 It was the church who educated young Hutu and encouraged them to seek equality with the Tutsi without teaching them a responsible way of attaining it. It was the church who, like those at Ntarama, Nyamata, and Kibeho, turned its back on those seeking shelter and protection from their killers during the genocide. It is the church that needs to both ask for and receive forgiveness. If the Christians of Rwanda, who comprise ninety-four percent of the population – Hutu, Tutsi, and Twa alike, wish to live in peace, they must both ask for and accept forgiveness. Both from God and from themselves. Forgiveness releases us from the bitterness and shame that corrodes our hearts and allows us to heal.
Forgiveness means you will not seek revenge against those who have harmed you, your friends, and your family. Forgiveness means you will not treat your neighbor differently because they have a different colonial identity. Forgiveness means you understand that the killers did not fully grasp what they were doing, and you are willing to move forward to develop trust with one another. Forgiveness shines light into the darkness and, thus, forgiveness brings hope for peace. This is what the demolished roof in the Kibeho church teaches us. Each day, the light shines on the former murder site, allowing people to discover and re-discover the awful atrocities committed during the genocide. And like the light of the sun, the light and love of God's Son exposes and heals all wounds. The colonists brought the Gospel message, but because it was intertwined with a message of racism and power, the chaff and the wheat were inseparable. So the belief that the good news that Jesus Christ saves all was taught equally with lies that some did not deserve salvation, and further, to achieve peace you must take and maintain power. The churches in these photos can be seen as a metaphor for Christianity in Rwanda. It had the façade of God's house, but it was filled with evil. You can see all the elements that comprise a typical church building (at least a Roman Catholic one): altars draped in white and the colors of the appropriate church season or feast day (red, purple, white, green, and rose) and carvings resembling the ark of the covenant, a biblical figure in stained glass, a baptismal font in the right corner, and an abundance of crucifixes and paintings of crosses. They are now permanently stained by actions of a few who forgot who they were. That evil has now been exposed, and God's light can shine forth to remake his church. His light can change the belief that attaining and maintaining power is the path to greatness. His light will uncover every dark secret in our hearts. And as those secrets are unveiled for the world to see, his light will give us the strength to repent and forgive, and we will be set free.
"It is for freedom that Christ has set us free," Paul writes in his letter to the Galatians (Galatians 5:1 NIV). Despite all of our shortcomings, he still sent his Son because he could not stand to see us imprisoned. We did nothing to deserve it, and yet he paid the price for our freedom anyway. "It is finished" Jesus said; the bill has been paid. God did not kill men, women, and children in the genocide, we did. Not only the genocidaires, but also those who were silent, those who seek revenge, and those who have benefitted and still benefit from the colonizing of Africa are complicit in the killings. We are all guilty. We were and still are driven by our own selfishness to commit acts of treason against the Kingdom of God and ourselves. As the Belgians betrayed the Nyiginya royalty after years of playing both sides for their own benefit, our lust for power will betray us. Threats of punishment and imprisonment against our enemies (both real and perceived) under the guise of "laws" are false paths to peace. They are only an illusion. We must repent and forgive. Repentance and forgiveness is the only way to attain lasting peace on the Earth. It is the only route to Never Again. We should allow these photos inspire us to do better. To be better. To be free. To finish the verse, Paul exhorts us to "(s)tand firm, then, and do not let yourselves be burdened again by the yoke of slavery" (Galatians 5:1 NIV). Let us truly be free.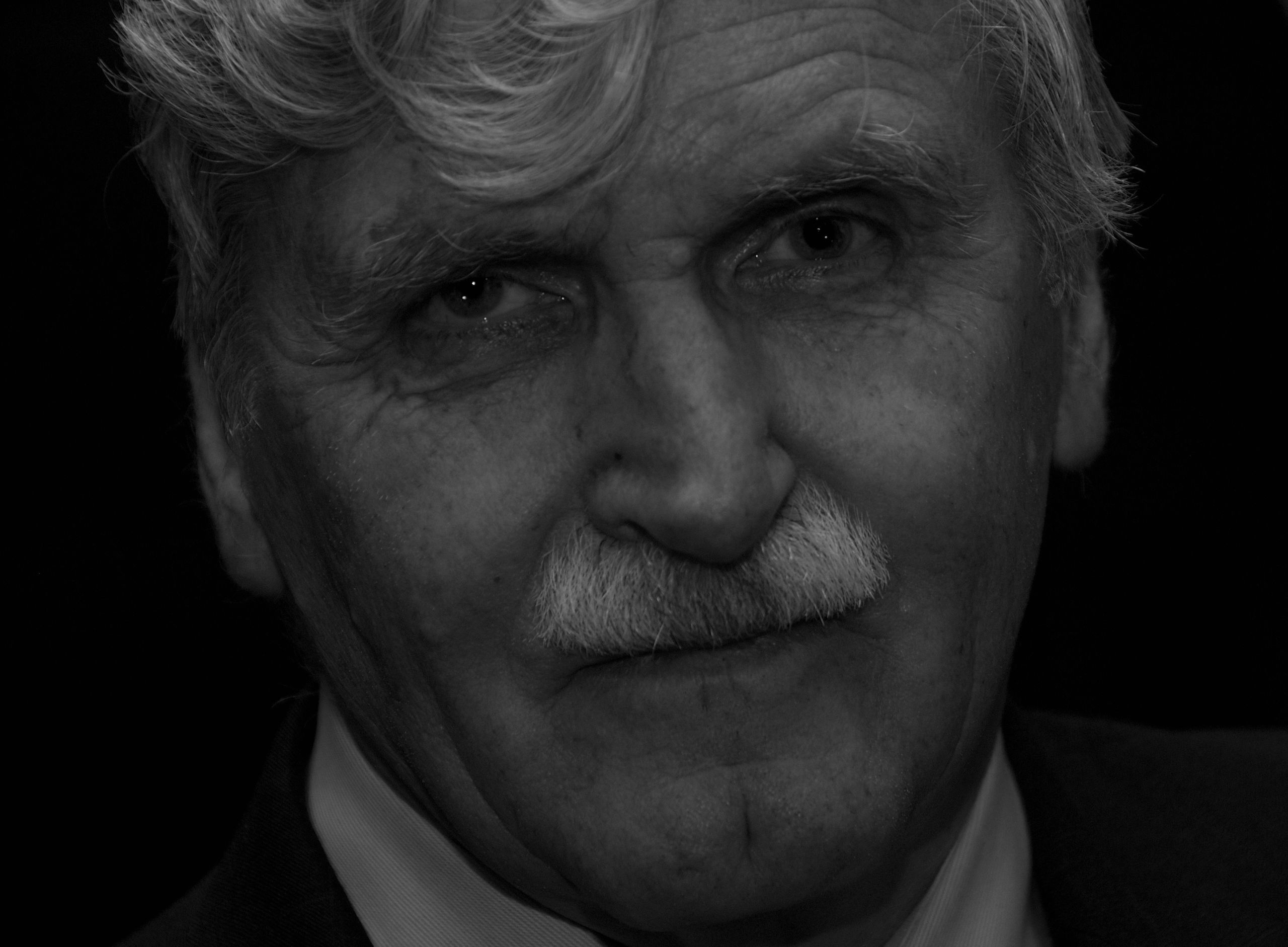 "It's Like He Captured my Soul"

By Adam Hayward
On November 1st, 1993, Major General Roméo Dallaire stood in Kinihira, Rwanda, overlooking the lush, green, rolling hills that tumble across this landlocked nation. There, he raised the United Nations flag to officially mark the takeover of the demilitarized zone as part of what was supposed to be "an easy peacekeeping mission, done on the cheap." (1) Pictures from that day show a stern faced, straight backed, 47-year-old Dallaire, surrounded by 200 armed troops from both rival factions, fingers on their triggers. Dallaire, in a typical blunt fashion, recounts his own feelings that day of being "scared shitless" as he played his "bluff" of taking control of the demilitarized zone with only 60 officers under his command and a budget without "enough cash to pay for the phone bills back to New York." (2)
This was one of Major General Dallaire's first official duties as commander of what would become the ill-fated United Nations Assistance Mission for Rwanda, a mission Dallaire has called, "A failure of humanity." (3) Of course, one cannot fail at something that does not have the potential for success, and Dallaire's mission is no different. The genocide in Rwanda, that saw close to one million people slaughtered in one hundred days, could have been prevented; Dallaire's mission could have been a success. Even in the midst of the darkest days of the genocide, Dallaire had a plan that would have prevented it. (4)  But he failed to will those in power, at the United Nations, to take action. He failed to convince them that the people of Rwanda were worth saving. This failure haunts him to this day.
Twenty-five years later, on November 1, 2018, the anniversary of the flag raising ceremony in Kinihira, Lieutenant General, The Honourable Roméo Dallaire visited the small city of Miramichi, New Brunswick. There, he spoke to an audience of high school students where he raised awareness of humanitarian crises around the world, he raised the expectations of our youth to become agents of change in our world, and he raised the audience to their feet with his pleas for compassion and action on behalf of all of humanity. He called upon all of us to "get our boots dirty" in our efforts to help our fellow man. This is Roméo Dallaire's newfound mission. This speech in Miramichi was the culmination of a series of events set into motion roughly ten years earlier. As it was in 2009, that I personally started to "get my boots dirty" based upon the inspiration of General Dallaire. That Christmas I read Shake Hands with the Devil: The Failure of Humanity in Rwanda. It had been sitting, untouched, on my bookshelf for years and I do not know what compelled me to crack the spine that Christmas. However, as fate would have it, a week after I finished the heavy – emotionally and physically – 562-page text, I received a pamphlet in my school mailbox which read "Genocide Education Canada is organizing a field study to Rwanda for Canadian teachers." The timing seemed providential.
Little did I know that reading Shake Hands with the Devil would inspire me to travel to Rwanda where I not only learned about the genocide and grassroots reconciliation efforts, I also fell in love with the people and this place that Dallaire called "paradise on earth." (5) This experience also launched my life in a completely different direction which saw me gain my Master's degree in Holocaust and Genocide Studies from the University of Amsterdam in 2012-2013. During that year I travelled back to Rwanda for field research for my thesis. I also flew to Sweden to meet Rafiki Ubaldo, a genocide scholar and Rwandan ex pat who also happens to be the photographer who captured this striking, raw image of General Dallaire. Since that time, I have helped organize a humanitarian trip to Rwanda in 2018 and I am currently organizing a field study to Rwanda for high school students in 2020. It was the launch of this field study that saw Lieutenant General, The Honourable Roméo Dallaire travel to Miramichi to lend his expertise and insights to our students. It was also the first time I had the opportunity to meet and thank my mentor in person and present him with this photograph, graciously donated by my friend, Rafiki Ubaldo. When he clutched the photo there was a brief moment - which was the only moment - I saw Roméo Dallaire at a loss for words.
From the time he was a boy, he was a soldier.
When Lieutenant General, The Honourable Roméo Dallaire spoke in Miramichi he was introduced by Senator David Adams Richards. Richards, a resident of Miramichi, is not only a Canadian Senator but also a noted novelist, essayist, poet and screenwriter. He has received the Giller Prize for literature, two Gemini Awards for script writing, and is a Member of the Order of Canada – the second highest honour bestowed upon Canadian citizens. Richards' short introduction, of just over 200 words, captured an essence of Dallaire that few could capture with such faculty using so few verses. Throughout this text I will lean heavily on the words of Senator Richards for these words help frame a story. A story that is usually locked away. But in this photo, through these haunting eyes, the story is revealed.
Senator Richards began his introduction, "From the time he was a boy, he was a soldier; from the time he was a soldier, he did his duty; from the time he did his duty, he did not flinch at what he was given to do." (6) This statement is certainly true of the stern faced, straight backed Major General pictured on that hill on November 1st, 1993. It is also true of Dallaire's unending devotion to his mission and to the people of Rwanda during the genocide. As it is true of the man, I picked up at the hotel on the morning of November 1st, 2018 in Miramichi. When meeting Dallaire, his posture, his voice, his firm handshake and his no-nonsense speech leave little doubt that he has lived a life immersed in military tradition and precision. In fact, his first words to me after our handshake and introductions were, "What is our mission today young man?"
However, the picture we are confronted with for this discussion is not that of a soldier but that of a man. A man who has borne witness to what no man should. A man who is broken. A man, who from time to time, perhaps wishes he did "flinch at what he was given to do." (7) Perhaps wishes he did follow his orders to return home, so he did not have to shake hands with the Devil and bear witness to the execution of the Devil's plans.
For at first glance, without knowing the context of this picture, one simply sees a black and white image of man, past his prime, with a pathetic look of humiliation. But when the context is revealed, we realize the power of this image. An image that Roméo Dallaire believes, "captured his soul."
While I am hesitant to use the word "pathetic" to describe any picture of Roméo Dallaire, Merriam-Webster Dictionary defines the term as "having the capacity to move one either to compassionate or contemptuous pity", "marked by sorrow or melancholy", or "pitifully inferior or inadequate." (8) Once put in this context the term appears much more appropriate than the colloquial use. For Dallaire's story is one of sorrow and melancholy. He was placed in a situation where he was pitifully inferior to the task. And he is someone who has the capacity to move one to compassion.
In the paragraphs that follow I will elaborate on each of the three parts of this definition and demonstrate how this image evokes these sentiments. I will then turn to argue that the Dallaire I met in 2018 is not the Dallaire captured in this picture in 2014 and how his new-found mission has brought light back into those haunted eyes. In fact, I will argue that this picture captures a Dallaire that very few have gotten to know and perhaps none have caught on camera before now. Every picture I have seen of Roméo Dallaire falls into one of three categories:
-       That of the serious soldier at the outset of his mission in 1993.
-       That of the exhausted warrior late into the mission in June of 1994.
-       Or that of the pondering and reflective or sometimes angry retired military veteran.
Never does one get to see inside the soul of this haunted man and I believe, for an instant, staring into the lens of a camera held by a Rwandan, Roméo Dallaire was transported back to "that place, in that terrible time." (9) This makes this photograph a one of a kind glimpses into the soul of this soldier that reveals a broken man who carries the weight of so many souls from Rwanda.
Pitifully inferior or inadequate: "Without support from those who sent him."
"General Dallaire was asked to go to Rwanda and in that place, at that terrible time, he did whatever was humanly possible to save who he could, without support from those who sent him. He did not shirk his duty—no, not a duty to the army but to men, women and children—he refused to leave them behind." (10) These poignant words, spoken by Senator Richards in his introduction to General Dallaire offer an excellent insight into how "pitifully inferior or inadequate" (11) Dallaire must have felt when his calls for help in Rwanda went unanswered. These feelings must return from time to time. In this image, I believe we witness one such time.
There is perhaps no greater symbol of the failure of humanity or contributing factor to Dallaire's look of being pitifully inferior or inadequate, than that of the notorious "Genocide Fax". This fax, sent by General Dallaire to the United Nations in January of 1994, four months prior to the outbreak of the genocide, offered grave details into the genocidal plans of the Rwandan Government. The informant who offered these details described his ability to have his personnel kill about up to 1000 Tutsis in just 20 minutes. (12) Dallaire thought he had all the evidence he needed to seize control of the weapons caches revealed to him by the informant and put an end to the government's goal of cleansing the world of Tutsi. In the fax, Dallaire laid out these details, requested permission to act, and confidently signed off, "Peux ce que veux. Allons-y" (13)– roughly translated: "If there's a will, there's a way. Let's go."
However, he quickly realized there was no will when it came to intervene in Rwanda. When speaking to the students gathered in Miramichi he shared a response to the fax that he received from a high-ranking western government official that read something like, "We will recommend to our governments not to intervene as the risks are high. Besides, all that is there are people and there are too many of them anyway." This last line left many students bewildered and shook. They could not imagine the callousness with which this public figure, and ultimately the United Nations as a whole, looked upon the lives of Rwandans.
At best, the powers that be were influenced by realpolitik and they saw no strategic value or resources worth saving (exploiting) in Rwanda. At worst, there was an inherent racism in powerful western nations that in 1994 saw millions of dollars flow into the peacekeeping missions in the Balkans and thousands of troops rushing in to save white Europeans while black Africans were being slaughtered via machete by the tens of thousands each day.
Due to this fact, Dallaire posed this question to the students gathered before him in the auditorium, "Are all humans human? Or are some more human than others?" (14) Of course, this is a rhetorical question and the answer should be obvious. However, Dallaire learned first-hand, that is in the eyes of international community, perhaps there still exists a hierarchy on the claim of humanity.
While in Rwanda, faced with this inherent racism on the part of the international community and irrational realpolitik, Dallaire must have felt "pitifully inferior or in adequate" as he tried to do "whatever was humanly possible to save who he could, without support from those who sent." (15) To this day, there must be moments when he still feels pathetic. One such moment is captured in this photo.
Peux ce que veux. Allons y?
Marked by sorrow or melancholy: "A savior with far too many to save."
These feelings of inferiority and inadequacy must have quickly given way to sorrow and melancholy when Dallaire returned home to a nation that had little idea of what he endured. While the rest of the world was glued to their tv sets for the trial of OJ Simpson, Roméo Dallaire came back to a citizenry in Canada where the vast majority still had not heard of a country called Rwanda where one million people were slaughtered in one hundred days.
One can imagine that Dallaire would have been distraught upon his return. As a lifelong military man, he did what no soldier should do, he defied orders and stayed in Rwanda. Also, contrary to his training and upbringing he was forced to stand down, never firing a shot, while thousands of mutilated bodies piled up around his compound. However, this did not stop Dallaire from saving those he could. Just as he started his mission on that hill in Kinihira with a bluff, Dallaire bluffed his way into saving tens of thousands. He sent out those few troops who stayed behind with him, with guns by their sides but no bullets to fill them, to stand guard in front of overcrowded churches and coliseums throughout Kigali to protect Tutsis who gathered there while fleeing their tormentors. However, in the words of David Adams Richards, Dallaire "was a savior with far too many to save, and it haunted him, as it haunts us." (16)
In this photo of Dallaire there is no question that his eyes are haunting but, as he admitted in the book, Seeking the Sacred, it is also eyes that haunt him. "Lots of those eyes still haunt me, angry eyes or innocent eyes, no laughing eyes. But the worst eyes that haunt me are the eyes of those people who were totally bewildered. They're looking at me with my blue beret and they're saying, "What in the hell happened?" (17) I implore you again to look at the photograph of General Dallaire. These exact same words could be used to describe him in this picture: "innocent eyes", bewildered eyes, eyes that say, "What in the hell happened?"
Since his return from Rwanda, Dallaire has led a very public struggle with post-traumatic stress disorder (PTSD). He attempted suicide on more than one occasion and, as a Senator crashed his car on Parliament Hill after suffering from several sleepless nights. He has become an advocate of veterans suffering from PTSD and wrote a very vivid account of his own struggles entitled, Waiting for First Light. (18) In fact, I have encountered many people who have said they had to put down Shake Hands with the Devil because it was too graphic, however, for me, it was At First Light that I struggled to read as, on several occasions, it brought me to tears.
However, after spending two days with Dallaire, I never saw any glimpse of his struggle with PTSD. I suspect this true of most who meet him. In fact, in the book Seeking the Sacred, an interviewer falsely presumed Dallaire had conquered his demon: 
Q: "What ultimately healed you after your struggle with the demon?
A: "I am not healed. I don't go into the grocery stores because the opulence of the food, the aroma and color, literally it paralyzes me. I see people dying of starvation killing each other at food distribution points. Women and children dead, trampled to death. I live with these scenes because I've built a sort of prosthesis that keep the pain under wraps. The prosthesis is the result of therapy and having friends to talk to." (19)
However, besides therapy and friends, there is another entity Dallaire now acknowledges for helping to "keep the pain under wraps" (20)– his faith in God. However, this was not always the case. After his return, Dallaire could not have helped feeling he was abandoned in Rwanda by not only the United Nations and humanity as a whole but also by God.
In fact, in a recent speech Dallaire acknowledged that it was roughly one year after this photograph was taken that his relationship with God began to be repaired. (21) Perhaps this is part of the reason why I did not see the Dallaire that is pictured here. But I believe there is another factor that Dallaire let down his guard, dropped his "prothesis", for this brief moment captured in this image.
Just like Dallaire still becomes paralyzed when going into grocery stores, was Dallaire briefly paralyzed when this photograph was taken? Was he briefly teleported back to "that place, at that terrible time?" (22) Was he once again seeing those bewildered eyes of innocent Rwandans that still haunt him? Was he once again hearing them say, "What in the hell happened?" I wonder if anyone other than a Rwandan could have captured this raw moment when Dallaire's prothesis briefly became immobilized while he stared straight into the lens of Rwandan photographer, Rafiki Ubaldo.
Certainly, during my time with Dallaire he never once showed this side of "being marked by sorrow or melancholy."
Having the capacity to move one to either compassionate or contemptuous pity: "One human being standing up against tyranny"(23)
Perhaps another reason that I did not see the Roméo Dallaire who is "marked by sorrow or melancholy" or a man who appeared "pitifully inferior or inadequate" is because Dallaire has set himself on a new mission. His impressive capacity to move one to compassionate pity is being put use. Like in Rwanda his new duty, is "not a duty to the army but to men, women and children." However, this time there is a will and there is a way. This time, people are listening.
In my time with Dallaire it was obvious that this mission is being fought on two fronts. The first mission has to do with the founding of the Roméo Dallaire Child Soldier initiative. Founded in 2007 with little fanfare, Dallaire has quickly grown the charity. Now, with a multi-million-dollar budget, it has taken on the responsibility for not only training militaries across the world in how to confront and demobilize child soldiers on the battlefield, but also advocates for the eradication of child soldiers at the United Nations and actively negotiates with governments and warlords who employ the use of child soldiers.
In fact, after leaving the tiny city of Miramichi, New Brunswick, the 72-year-old military veteran had no time to rest as two weeks later Dallaire flew into South Sudan. There, the Roméo Dallaire Child Soldier Initiative is working with 1,200 South Sudanese soldiers and police in an effort to save the upwards of 19,000 child soldiers currently exploited in the world's newest country. (24)
The second front of Roméo Dallaire's new mission has to do with mobilizing the youth of Canada. His emphasis on youth was very apparent to me throughout his visit to Miramichi. In fact, when I first met him at the hotel, after pleasantries were exchanged, his attention quickly turned from me to the two high school students who accompanied me. These students were present to be Dallaire's assistants for the two days he was in Miramichi and he got to know them well. He was genuinely interested their hobbies, their passions, their pursuits in life, and most importantly their impressions on global affairs as he quizzed them constantly during his stay.
The passion and hope he sees in our youth shone through when he took the stage in the auditorium at James M. Hill High School in Miramichi. Dallaire proclaimed that the 550 students that sat before him were part of "The generation without borders." A generation that find in their pockets a device that allows them to reach across borders to call anyone at any time. To see the faces of their peers whether they be in Africa or Asia or South America, and to connect with them on a personal level. He claimed that this will be the first generation to fully realize that all humans are in fact human, that there are none who are more human than others. (25)
To enhance this Dallaire challenged Canada to, "create, in this incredible country of ours, a rite of passage. That when you finish high school or your undergrad, you have, underneath your bed, a pair of dirty boots. A pair of boots that you got dirty when you went to a developing country where you went to feel, hear, taste, listen, cry, and laugh, and to help build humanity." (26)
Just like he signed off on the infamous "Genocide fax" with the words, "Peux ce que veux. Allons y." Dallaire also concluded his speech in Miramichi with these very same words. While the overall essence of the mission remains the same – helping humanity and fighting for those who do not have a voice – his audience has now changed from bureaucrats and politicians for whom realpolitik seems like an impenetrable barrier to students who are globally connected and come from a generation that is more aware of their fellow man half a world away than ever before.
Senator Richards reflected that, "General Dallaire achieved greatness, not as a soldier, but as a man—one human being standing up against tyranny, in the most dreadful of circumstance." (27) In fact, General Dallaire continues to stand up against tyranny, "not as a soldier, but as a man" and by committing himself to engaging with audiences of youth. Richards went on to conclude his introduction with the words, "He will speak tonight. And we are privileged to listen." (28) Indeed, we must listen, because in 1994 we learned the consequences of not listening to Roméo Dallaire.
It's like he captured my soul.
On November 1st, 2019 the journey that Roméo Dallaire's words sent me on – to Rwanda, to fulfill a master's degree in Genocide Studies, to "get my boots dirty" at home and abroad - came full circle when I was able to present him with this picture, captured by my friend, Rafiki Ubaldo. A second copy, signed by General Dallaire, hangs in my office. While I see the inferiority, the melancholy, and pity captured in the eyes of the pathetic figure in the photo, I am more so reminded of the man I met. A man who will never "shirk his duty." A man who is "standing up to tyranny." A man who will continue to speak on behalf of humanity as long as he has a voice. The picture in my office serves as a steadfast reminder of not only what he bore witness to but to also ensure I continue to "get my boots dirty."
When I presented Lieutenant General, The Honourable Roméo Dallaire with this photograph his ever-present sense of humour came to the forefront and he jokingly observed, "Well this picture is one of the greatest I have ever seen! But with such a great subject, how could it not be?" Then, pausing for a moment with eyes fixated on the portrait, Dallaire's guard – his "prothesis" - dropped for a moment. The man who never stopped talking for two days suddenly fell silent and his face grew serious and in a more serious tone, he quietly lamented, "It's like he captured my soul."
References
(1) Peter Raymont, Shake Hands with the Devil: The Journey of Roméo Dallaire (2004: Toronto, White Pine Pictures), DVD, 9:03
(2) Raymont, Shand Hands with Devil, 9:20
(3) Roméo Dallaire, Shake Hands with the Devil: The Failure of Humanity in Rwanda (Toronto, Vintage Canada: 2004).
(4) Col. Scott R. Feil, "Could 5,000 Peacekeepers Have saved 500,000 Rwandans? Early Intervention Reconsidered" ISD Reports, April 1997. (5) https://isd.georgetown.edu/sites/isd/files/ISDreport_Could_5000_Feil.pdf
(6) Raymont, Shake Hands with the Devil
(7) Senator David Adams Richards, "An Evening with Roméo Dallaire" (speech, Miramichi, CA, November 1, 2018).
(8) Ibid
(9) Merriam-Webster Dictionary, 2019. https://www.merriam-webster.com/dictionary/pathetic#other-words
Senator Richards, speech
(10) Ibid
(11) Merriam-Webster
(12) Roméo Dallaire to Maurice Baril, January 11, 1994. https://www.documentcloud.org/documents/816325-19940111a2-unam-rwdp.html#document/p1/a138279
(13) Ibid
(14) Roméo Dallaire (speech, Miramichi, CA, November 1, 2018)
(15) Sentaor Richards, speech
(17) Ibid
(18) Dallaire, Shake Hands with the Devil
(19) Roméo Dallaire, Waiting for First Light: My Ongoing Battle with PTSD, (Toronto: Random House Canada, 2016)
(20) Ibid
(21) Ibid
(22) Chris Berthelot, "Faith on Front Lines: A desperate world needs God more than ever, says Lt.-Gen. Roméo Dallaire." The Catholic Register, August 18, 2018. https://www.catholicregister.org/item/27848-faith-on-front-lines-a-desperate-world-needs-god-more-than-ever-says-lt-gen-romeo-dallaire
(23) Senator Richards, speech
(24) Merriam-Webster
(25) Sam Mednick, "Roméo Dallaire says approach to ending use of child soldiers is not enough." Globe and Mail, November 25, 2018. https://www.theglobeandmail.com/canada/article-romeo-dallaire-says-current-approach-to-ending-use-of-child-soldiers/
(26) Dallaire, speech
(27) Ibid
(28) Senator Richards, speech
(29) Ibid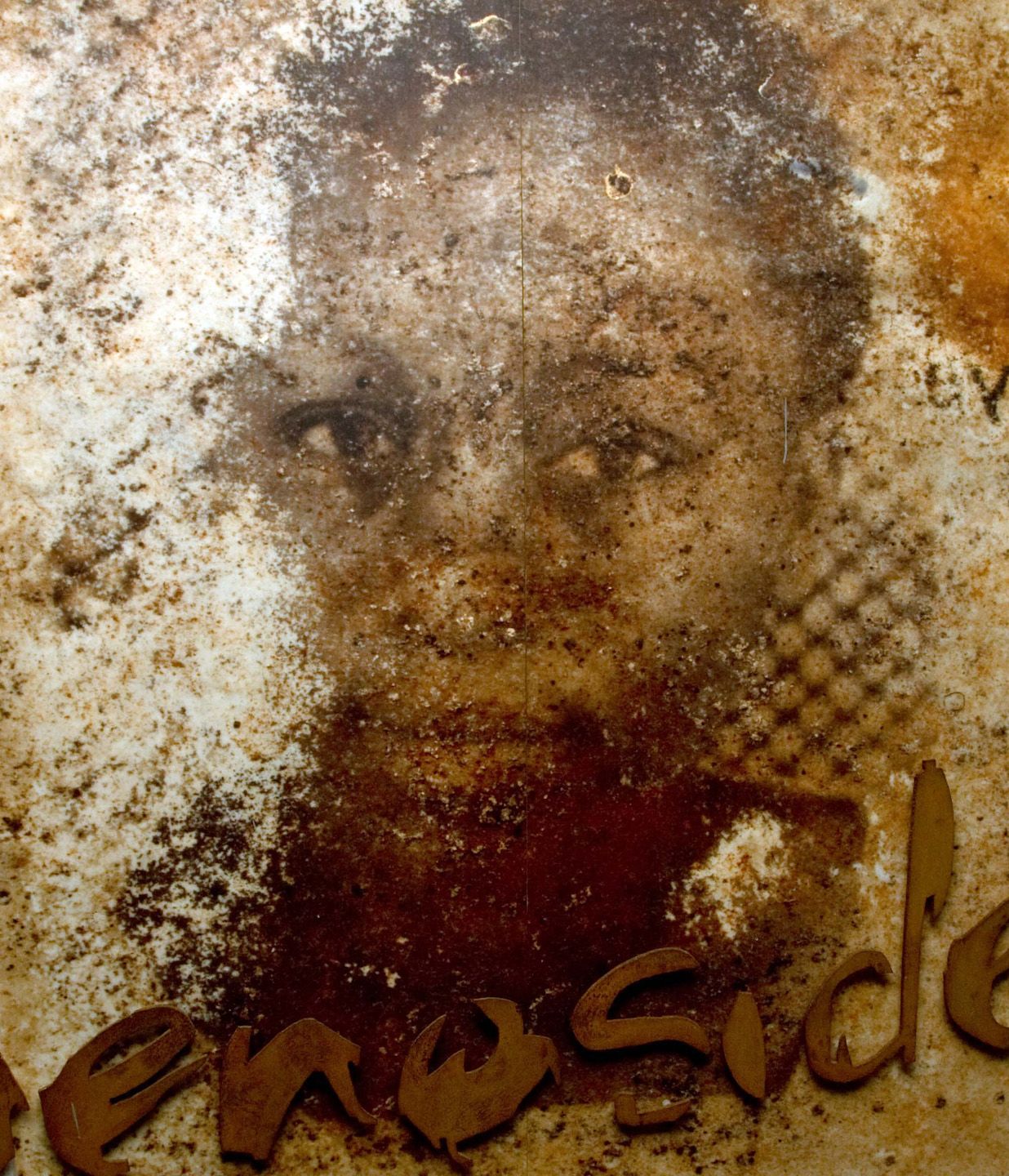 Memories
We went from ruins
to ruins
searching for the memories
of the time
before the end of times.

We saw a photograph
covered in mud
we stared at it:
was it a wedding
or a funeral?

We couldn't tell.

We saved it though;
for in our hearts
perforated memories
have a place to stay.
Rafiki Ubaldo, Knivsta, March 2016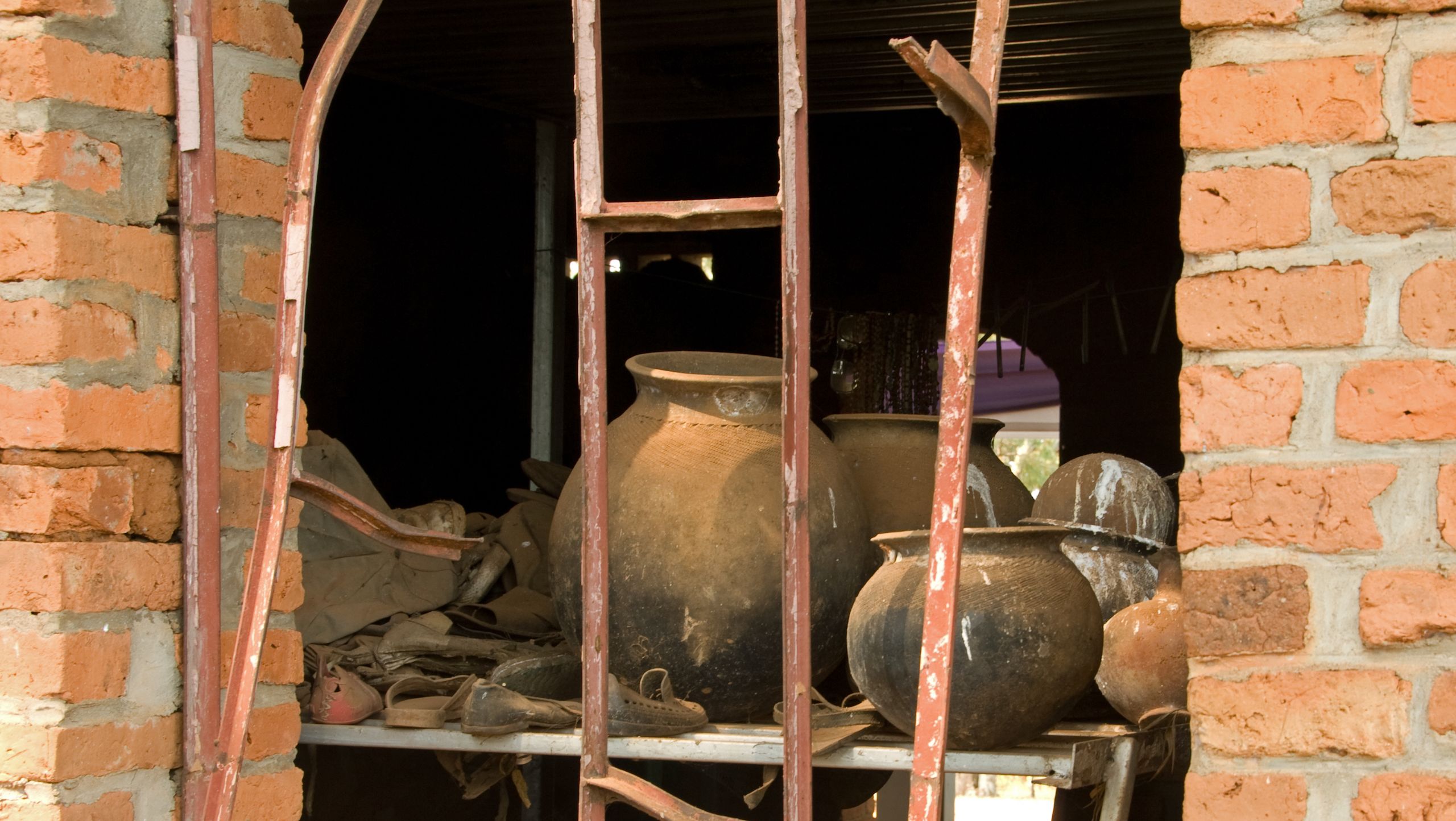 Bound by Seasons
By David Akombo
It has been almost 25 years since you experienced a meaningless man-made catastrophe. The beauty of these pots symbolises that tragic occasion. The aesthetics philosophy of Rwanda's people in their artifacts is epitomized in the pots as a reminiscence of the African celebratory and egalitarian lifestyle. These pots are a symbol of life in humans that create them. They symbolize the priceless lives that were lost and the priceless lives that survived the atrocities.
The personal belongings left over are symbolic of how humans get their synergies and build a cohesion notwithstanding man-made catastrophes. You have suffered, you have endured, but above all, you were broken but destroyed as evident in the beauty of these expositions.
Never again, should man or woman, any man, or any woman, be permitted to act with impunity and end the dreams of so many innocent lives of children mothers, sons, daughters, mothers, fathers, grandparents, neighbors, and fiends from near and afar. For life is precious, and much more so, when it is a God-given blessing. Selfish agenda should never be allowed to reign over common-sense philosophy of brotherhood and sisterhood. For when anarchy is allowed to breed unabated, the blood lost knows no boundaries when shed, it percolates, embodies the soil, and gets devoured.
The synergies of the anguish by the survivors transcends comradeship and brings new insanitation to carry on the fight for goodness sake.
That is what you, Rafiki Ubaldo, and many brothers and sisters of the great nation of Rwanda have accomplished during these past decades. That precious of African blood should never head the call for the blood-thirsty crust. For the crust is soul-less, bloodless and has neither empathy for future generations nor sympathy for posterity. If it were all possible, we would assemble the pieces of the broken pots (The Diaspora), and the pieces of the tattered clothes (the synergies that bind them) and piece them together again and make a mosaic whole.
Even though you are spread out in the world, like birds of a feather you stand tall, bound by the seasons. Being the citizen of the world does not mean that all is lost. As seasons, you will one day find yourselves flocking together, like birds of the same feathers, even if it's not on earth, perhaps in heaven.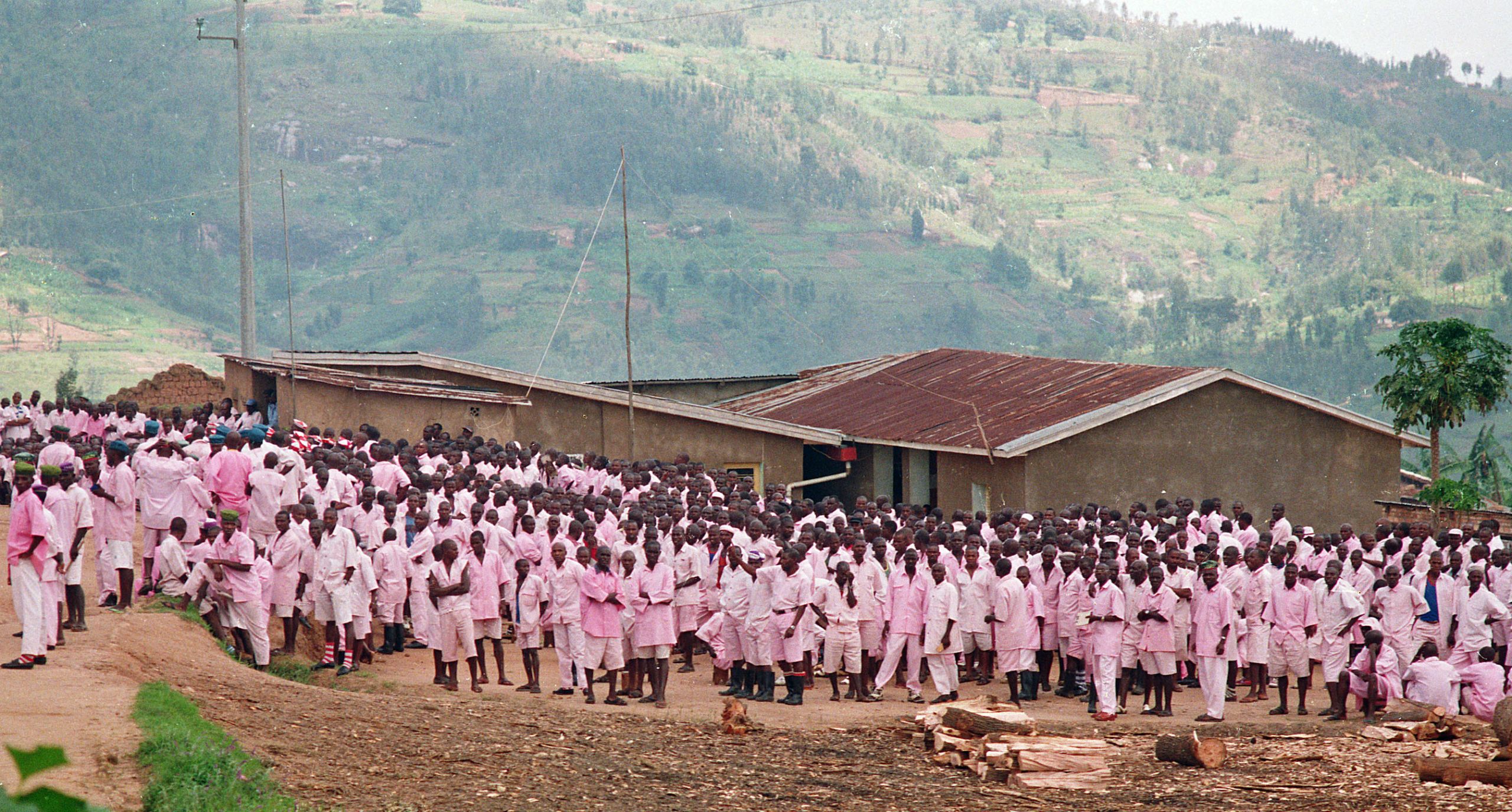 Never Again?
By Rebecca Tinsley

On my first trip to Rwanda in 2004, I visited a prison where the masterminds of the 1994 genocide were held. Because the country's infrastructure had been decimated during the conflict, the government lacked the funds to imprison the estimated one million people who participated in the Hutu extremists' elimination of ethnic Tutsi and moderate Hutu. Hence the men and women I encountered in the prison were either responsible for killing large numbers of people or had been involved in planning the violence.
The prisoners' uniforms were pink, making them easily identifiable if they escaped. I met a genocidaire who had been an academic at Butare university before the mass killing began. He told me he knew he could be free if he confessed and told the authorities where he had buried his victims. However, he explained, he preferred prison because the International Committee of the Red Cross provided food and treatment for his HIV. Meanwhile, the women he had raped were dying of AIDs, and witnesses went hungry. It was, he said, a rational choice to stay in prison.
When I asked him if he had any regrets about his role, he replied, "I'm sorry we didn't get them all. But we will next time."
I was traveling with the formidable human rights campaigner, Lord David Alton, and he immediately bullied the British government into providing HIV treatment for the thousands of women who had been systematically raped during the genocide.
But the conversation with the mastermind of the killing lingered, prompting me to wonder how best to respond. Some Western NGOs arrive in Rwanda, promoting peace, reconciliation and forgiveness projects. They find it easy to raise funds for these idealistic programs because the international community rightly feels guilty for abandoning Rwanda, even though diplomats and politicians had been warned precisely what was about to occur in 1994. But, I thought, who are we to lecture the Rwandans on reconciliation when the US civil war still informs American politics and society 150 years later? Preaching peace makes us feel better as we signal our virtue, but it does nothing for the homeless orphans or illiterate women forced into sex work, struggling to survive.
Lord Alton and I decided to focus on supporting the resilient and resourceful survivors whom we met: Sophia, a fifteen year old with the demeanour of an old woman, caring for seven younger orphans; Abdoul, who, at the age of eight, had the presence of mind to use his t-shirt to tie his little sister's skull together after she had been attacked; Patricia, a penniless widow who witnessed her children being hacked to death, but adopted two little strangers who were genocide orphans.
We acted on what local people told us were their priorities. We helped SURF, the Survivors' Fund, to build dozens of homes for child-headed households of genocide orphans; together with SURF we built a clinic that has grown into a first-class health center, serving thousands of survivors. I started Network for Africa to provide trauma counselling for people who were tormented by what they had witnessed during the killing. And we supported the Aspire project, giving survivors life skills to enable them to break the cycle of poverty.
Since my first trip to Rwanda, I have returned regularly, monitoring our projects and meeting remarkable people who find hope in the most challenging personal circumstances. Yet closure remains allusive for many survivors: although Rwanda pioneered a system of local justice, some killers have refused to reveal where they buried their victims. Instead, like the prisoner in the pink uniform whom I met, they mock the survivors and intimidate witnesses, even twenty-five years later.
My emotional response to these photographs is irrelevant: all that matters is action, supporting Rwandans as they try to rebuild their country. Anything else would be self-indulgent, and it is of no use to the Rwandan people.
The international community chose to ignore the UN commander, Romeo Dallaire, in 1994, when he warned that the Hutu extremists, like my man in the pink uniform, were assembling weapons, drawing up lists of Tutsi and moderate Hutu, and using eliminationist propaganda to stir up the grievances of the majority against the minority. Dallaire asked for just 5,000 troops to signal to the extremists that the world was watching them, but the UN dismissed his concerns. One million people were slaughtered as a consequence. We owe Rwanda support, rather than pious lectures.
However, the story does not end there. Motivated by guilt, the UN proclaimed "never again" and adopted the Responsibility to Protect Doctrine, requiring the world to step in when it perceived incipient genocide. The General Assembly congratulated itself on this policy at the very moment that the government of Sudan was massacring its own citizens in Darfur. Once more, the international community looked the other way, proving that nothing was learned from Rwanda. Evidently, the leaders like my man in the pink uniform, who use hate speech to manipulate people, can kill with impunity because the world refuses to acknowledge the tell-tale signs that genocide may happen. Nor do we hold murdering regimes like Sudan to account, ensuring they face consequences when they violate the international treaties and conventions they have so casually signed. We cannot allow the men in the pink uniform to win.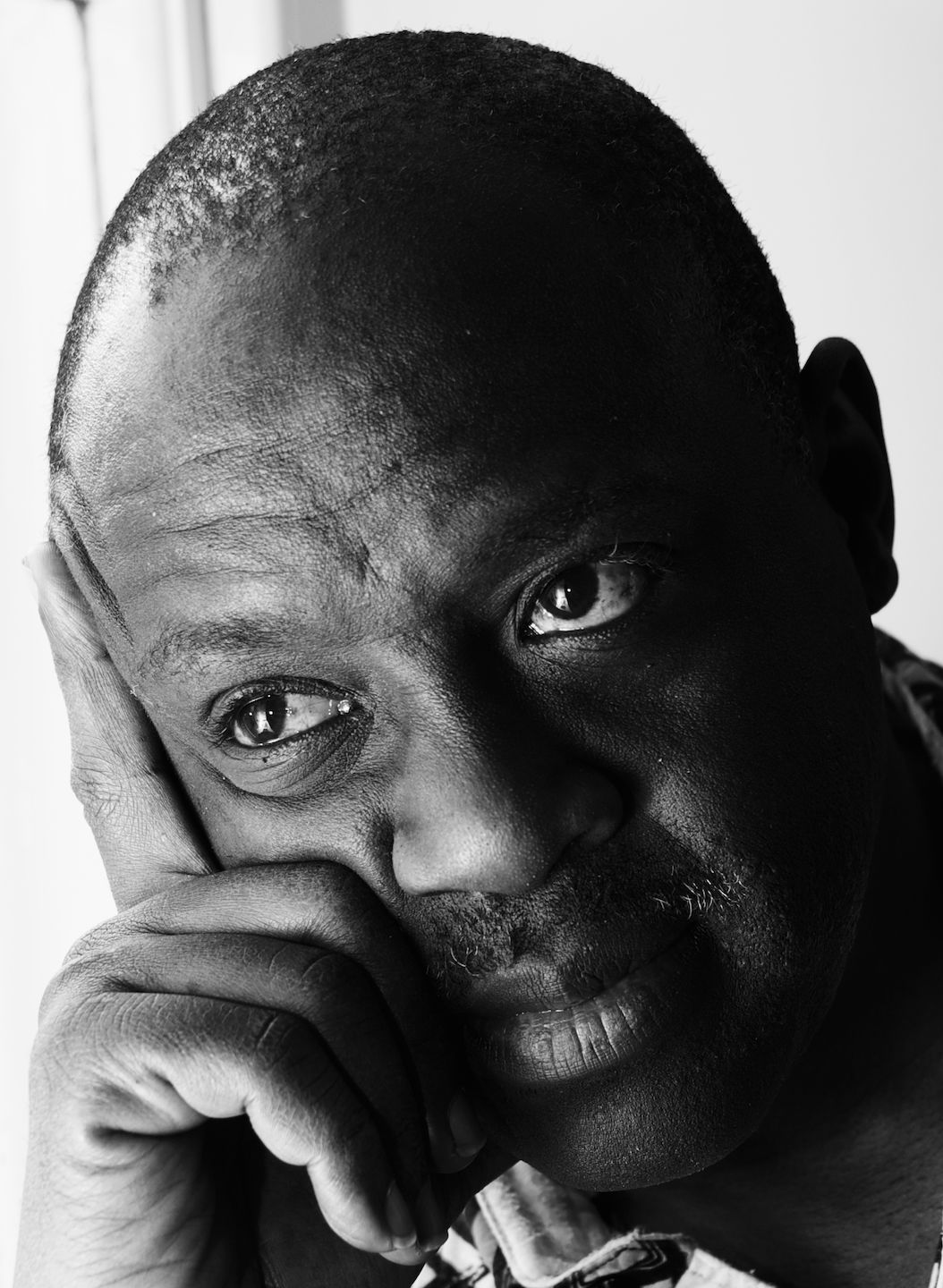 Dear Jean Paul Samputu,
By Helen Hintjens
Perhaps we met a long time ago, in Kigali, before war and genocide. You may have been there at one of the concerts of Les Huits Anges (the Eight Angels), young men and women trying their musical luck. In the church hall, were you too among the young people dancing to live music, one of the crowds? Did you laugh out loud at the good mood?  I may have been there too.
We know someone in common, former member of Les Huits Anges, a musical man named after the French President who 'stuck it' to the Anglo-Saxons. Marechal de Gaulle. He's in Canada now (?), and you both collaborated before and now. I did not know this till yesterday. 
In the photo you look sober, sad, honest, transparent. Gone is that shiny bonhomie with which you greet the world, proclaiming the lord is love, life is beautiful, and all are forgiven.
Yet you remain full of hope for Rwanda's future. Each day you strive to turn your music into meaningful messages, hopeful signs, for those who come afterwards. The musicians you grew up with, are today scattered to the four winds, across the world, and in Rwanda. Like you, they give up their love, their songs, to the next generations, infants of a harsh God.
Forgive me not knowing you better. My kind betrayed your kind, and your people. False prophets, fake siblings, crying crocodile tears, with tourist visas, credit cards. Whites wazungus ran away to save themselves, ignoring pleas for help, letters, cries. Rwandans who could run away, did so too, but most could not go anywhere.  Somehow you, Jean Paul, are able to forgive all that.  Somehow, I cannot.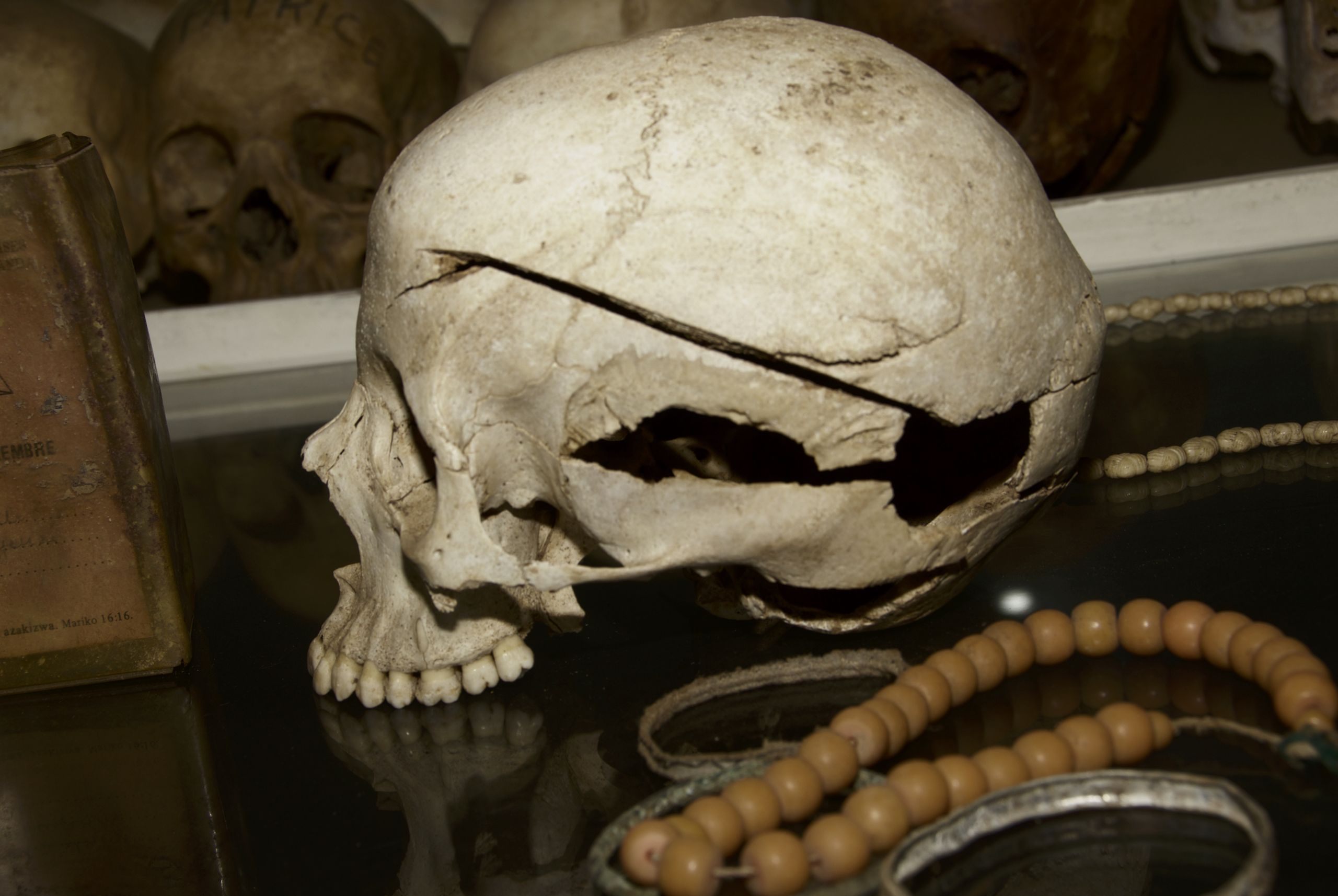 It needs to BE
By Samuel Totten
For over 30 years I have immersed myself in the study of genocide and crimes against humanity. As odd, as sad, as unbelievable as it may sound, there has not been a single day in those 32 years I have not thought or read about, discussed, conducted research into and or/written about some facet of genocide or crime against humanity.
 I am obsessed. There is no doubt about it.
I am obsessed that innocents who simply wish to live their lives like most others around the world  --  in peace, with a minimum of worry, enough for them and their families to eat  --  are demeaned, marginalized, disenfranchised, threatened, brutalized, and, yes, frequently killed simply because of who they are (e.g., Muslim or Christian, Hispanic or African American, Darfurian or Tutsi, Iranian or North Korean, or right wing or left wing, Socialist or Communist, etc.). 
I am obsessed how vile and vicious humans often are in their treatment of fellow human beings.
I am obsessed with the thought that babies, children, mothers, the elderly, among others, suffer such horrific fear and pain at the hands of another human being or group of human beings during the perpetration of crimes against humanity and genocide.
I am obsessed that no one is there at least attempting to protect such innocent lives from such cruelty and horror.
I am obsessed, disgusted and furious that some people (call them, what you will -- perpetrators, collaborators, cowards -- somehow get some perverted satisfaction - pleasure? joy?  -- out of hurting, torturing, and killing the so-called "other."
I am obsessed and depressed that the world – humanity - still does not care enough for our fellow humanity to do its all -- with every fiber of its being – to prevent and stanch such horrors
I am obsessed and distressed that I am never doing enough to help -- in concrete ways -- potential and actual victims
I've stared into hundreds of pairs of tortured eyes and been nearly overcome by the tragic, stomach churning and mind wrenching stories that survivors recount in quiet, mournful voices.
This photograph of the skull with the horrific and deep gash, which was once animated by the thoughts and emotions of a human being like you and me --  with hopes and dreams, beloved family members and friends, needs and desires, highs and lows – drove home, like little I've ever experienced, the fearsome and vicious hatred, the menacing and vengeful fury and unleashing of every bit of poisonous hatred that a reptilian brain could muster during the course of a paroxysm of hatred that we know as genocide.
It is as if I can actually see the vicious countenance of the killer and the whiplash swing of his arm. I can see a blood-stained machete in his hand. I can hear the beseeching voice of the soon to be victim, as the blade nears his or her head, and then the sudden and horrible crack of the skull and simultaneous screech of the victim. This photograph projects the wicked scorn, hatred, jealously, cruelty, self-hatred, and savagery that few will ever witness in life. Thank God.
The photograph of that skull, sitting atop the pulpit in a Catholic Church, with the rosary beads nearby, is almost otherworldly.
But it's not.
It wasn't.
It should have been, but it wasn't, was it?
It should be, but it's not.
It needs to be, doesn't it?
It should be, but will it?
It needs to
BE.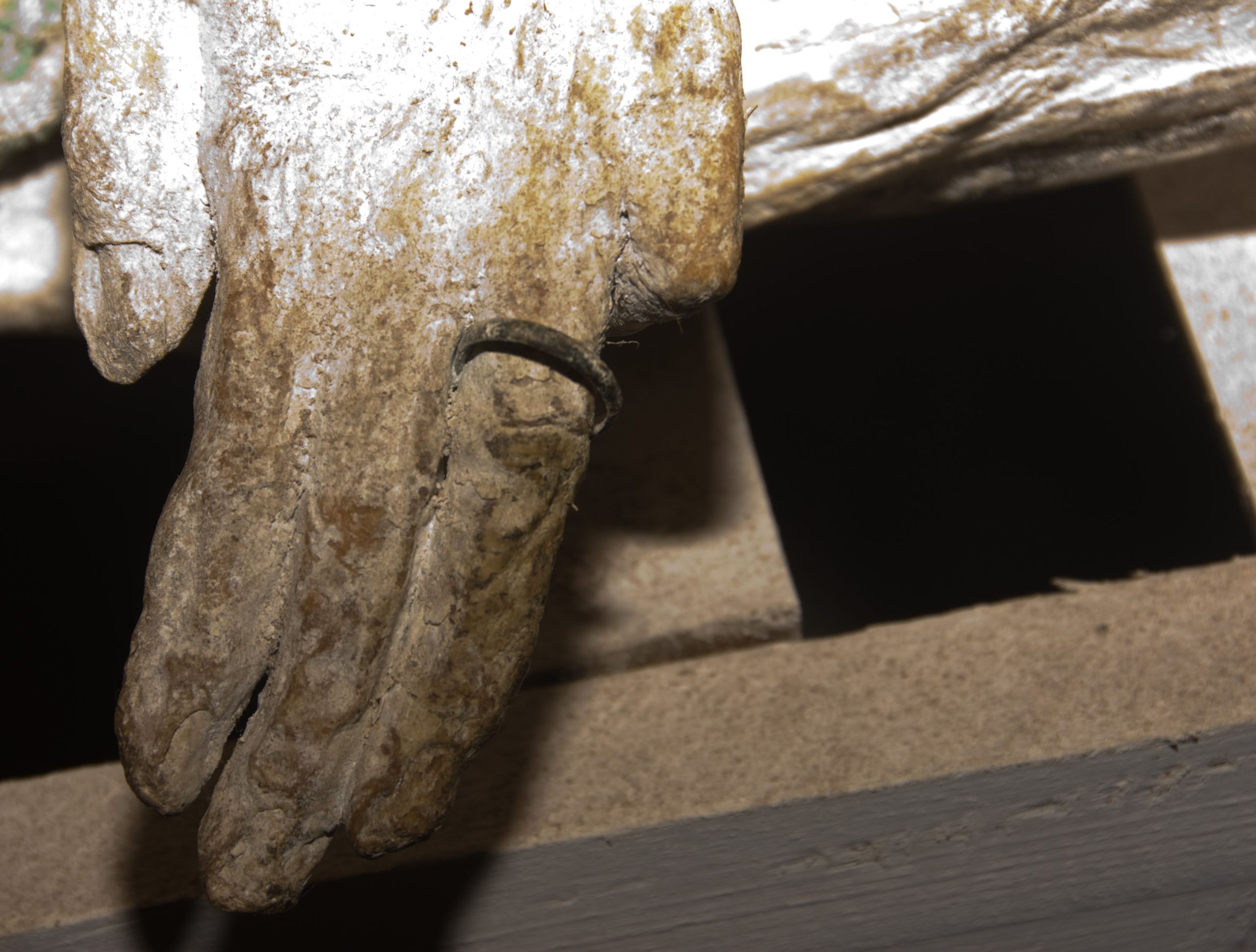 "…this wedding ring
urges me to vow:
ibuka, ibuka*
to let human life be."

* remember, remember
adapted from A song to the Destroyed, By Rafiki Ubaldo, Uppsala, summer 2014
Beyond Time and Space
By Rafiki Ubaldo
There will be less sounds of the boots. There will be more movements of the eyes in the search for the affirmation of life.
The work of memory will involve less rituals performed in large crowd gatherings to allow activities at the level of the eye. During the commemorative seasons, we will stay home more often to listen to voices that left an imprint in the universe of remembering the loss we've gone through. We already have enough written, performed, and filmed material of the many silences and painful commemorative events. It's time we allow each other the necessary intimate time, and space, to reflect on this painful legacy, so that we can appreciate where we've come from, and where we are heading. Most importantly, we will have to let strangers use their own cultures to come closer to us, and sympathise with our pain. They will no longer be invited guests who are compelled to join us because it is no longer possible to look away, but because the human solidarity tells them to sympathise with fellow humans.
This is important. We have come to a point where we must travel to the place above the universe of obligation (search engine the the work of Helen Fein, for more details about the coinage and meanings of "universe of obligation") to bring back rescuers from the life of constant extreme risk-taking. We must bring back the bystanders from the life of indifference that places them above life when fellow humans are exterminated in other parts of the world. Since the end of the Holocaust, we are learning and finding ways to travel below the universe of obligation to save genocide perpetrators from the shame of their deeds, and to rescue survivors from the consequences of the painful humiliation they face during extermination. But who helps rescuers and bystanders to come back to the ordinariness of human interactions?
We will find answers if we individually go beyond reconciling and fighting against to embrace thinking non-violently. The sum of such innumerable individual and private moments will constitute our new togetherness. And we will learn to read the results of these intimate reflections in the many daily meetings and encounters in public and private spaces. We must learn to see these alternatives and we must trust that we will succeed.
In many ways this project is the result of a collaborative effort as described above.  Many thoughts, correspondences, conversations, and debates traveled back and forth in the physical and digital worlds between 2000 and 2019. At the end, people whose professional activities explore these discussions stepped outside their zones of acquired knowledge and lived experiences to think and tell the world in ways they have rarely considered or shared with the public before. Here, we convey personal, intimate, open and empathic writing about the subject of extreme suffering and the recovery from the painful loneliness we endure in the aftermaths of mass-loss of human life.
This is neither an exhibition, nor a finished publication. You will see typos here and there. That was my unstated expectation from contributors to this thing: that they work spontaneously, that we do not build a finished, polished, but a rough wall. Because the work of memory is never finished. It is always a work in progress. This is therefore something that is not yet there. Something that will never be there. Not because it is uncomfortable to clearly state or relate. But simply because the past of extreme suffering never leaves us alone, and yet, at the same time, it always leaves us lonely.  We are left hanging in there, some place we can only understand through our determination to recover.
But since we have come to this tangible, visible, digital thing, let's tell the story that brought it to life.  The final phases and shapes are as Frank describes in his introduction. The early flickers of it however, Frank and I did not talk about. As always, the quick of life comes in the way of most projects in which I take part.  But Frank's introduction blissfully triggered a recollection of anecdotes and events that helped bring this project to what you see now. Allow me to share some traces.
Sometime towards the end of 2000, my chief editor told me I had to travel from Kigali, Rwanda to Arusha, Tanzania, to cover the story of the Kambanda Appeal Trial at the International Criminal Tribunal for Rwanda (ICTR). Jean Kambanda is the former Prime Minister of the government that committed genocide in Rwanda in 1994.  The ICTR had sentenced him to life imprisonment in 1998.
In the mediate aftermaths of the genocide the Rwandan government did not have the means it has today. The ICTR provided logistical support to Rwanda journalists, witnesses, and members of the civil society traveling to Arusha. We flew United Nations planes.  But before leaving Rwanda, we were told that the United Nations would not be responsible for our lives or deaths in case of plane crashes. There were documents to the effect that our families would not claim anything if we died in their planes. I signed such a document only one time. Other colleagues signed it more than one time. That is life. I recall that when my chief editor remembered about this document, he called me in his office and told me I was not obliged to go. But the opportunity to see Jean Kambanda was much more tempting than bureaucratic quarrels about meaningless non-insurances of The United Nations. Besides, at that time there was this sense in me that death was not particularly interested in having me fall from the skies in a UN plane accident. I signed the thing and went to Arusha. I wanted to see Jean Kambanda again, this time in a different light, much different from the days of 1994.
The day of the trial came, and things looked strange. The setting of the courtroom, the UN security guards, the large bullet proof glass-wall between the court room and the public space, the different professional attire of the court staff, the international media to which I was now belonging, notwithstanding the poor gear I had with me, and many other endless funny details I was observing. And then there is the very moment we were allowed to approach Jean Kambanda to photograph him.
As in other rare news making events, the photographers and the TV cameramen got a very short time to photograph Kambanda. But when Tom Kennedy, the ICTR Head of Media and Communication section at the time, saw that I was struggling to take a picture he quietly told others to go back to their places. He allowed all the possible space and some one or two minutes more to take my photographs. I was the only Rwandan journalist from the Rwandan print-press with a still camera. And an article with the most recent photograph of Jean Kambanda was very important.
But I stayed there, planted in front of Jean Kambanda. I looked at him through the lens, I took erratic shots but met his empty eyes in a way that is difficult to forget. He was there, looking at me. I could tell through the lens. Something made me almost feel sorry for him. Or did I? I am not sure. But I certainly did not feel like hating him. He was not present, he was not well and alive, but he was not dead either. He was just planted there; motionless but not dead. It looked like he was not breathing, or barely. I stood there too, not knowing what to do, really. I could not breathe. It's like life got suspended for that short time. It all happened quickly. I cannot tell exactly how I went back and joined the other journalists.
By now, you understand my photographs of Jean Kambanda were nothing near deeply unfocused, or strongly blurred images. And I knew it. I just needed a final verdict from a lab. As soon as the court went into recess, or whatever they call courtroom breaks, I rushed to the nearest lab downtown Arusha and I had the films developed to see a series of sorry negatives. Just empty, useless blank film rolls.
I went back, and somehow, I did not feel angry at myself. I did not feel ashamed of failing to record such a historical encounter. I went back to follow the court proceedings. This time I had to write a good article.
Two judges made a strong impression on me. Claude Jorda was the first. And for obvious reasons, everyone was anxious to see how a French judge was going to behave. But Justice Jorda proved to be a formidable pain for Jean Kambanda and his defense teams. My recollection is that Kambanda defense argued that the proceedings in the Trial Chamber took place in the context of poor legal representation, a representation that was imposed on the accused, a representation that the accused did not choose in the first place. Justice Jorda argued something like the defense team could not convince the court that the choice of one's legal representation does automatically results in professional and successful representation. In other words, Kambanda did not lose his case because he had not been allowed to select his defense team. I took many photographs of Justice Jorda. His movements and presence in the court made it easy to take pictures of him.
The second judge that I still remember is Late Justice Mohamed Shahabuddeen, from Guyana. The old man was everything that I wanted any genocide survivor to see in a courtroom. Just looking at him made anyone feel good. He sat there, almost like a statue of Buddha, meditating the ongoing court proceedings, only occasionally making a slow and gracious gesture to clarify a point, or to make an observation. It felt like he was more concerned with matters of kindness, beauty, grace, love, and consideration for life, than he was interested in the letters of the law. The memory of Justice Shahabuddeen inspired ibuka, ibuka, to let human life be, the last verse of my poem A Song to The Destroyed. I observed him so much so that I decided I was not going to photograph him. Freezing his face in a photo would have done an enormous injustice to the image I had of him and the feeling of peace I felt analysing his conduct in court.
This decision to not photograph a subject happened to me for a second time when I decided to leave behind my camera during a visit to Tsitsernakaberd memorial museum, in Yerevan, Armenia. In my world, some subjects are simply best when left un-photographed.
When I went back home to Rwanda, after the failure to photograph Jean Kamabanda, I explained to my chief editor what happened, and he did not question me a second. It probably is the most important memory I have of Frank Ndamage, a journalist who had come back home from exile after the genocide. That sense of understanding invited me to start reflecting about the lives of former Tutsi refugees who returned to Rwanda to find ruins. (This is another project that I pain to finish!)
But the failure to photograph Jean Kambanda taught me a lesson. It invited me to think about when and how to transgress. A lot of creative options are available to the photographer of sorrow, pain, and shame. One becomes sensitive to photographing genocide survivors, I guess. But in my case, I became deeply unsatisfied when I started to analyse the photographs available in the Rwandan context. I also learned to be gentle to the perpetrator subject. While I went on to photograph genocide perpetrators in Rwanda, it was only in Srebrenica, Bosnia-Hercegovina, that I dared to take photographs of survivors. It was a moment of hesitation and I still wonder if I should have done it. (And I will certainly work to find an answer to that question.) Later, I photographed Emmanuel Murangira and Jean Paul Samputu, two genocide survivors well kown in Rwanda and abroad, but it was very difficult. In addition to my own dilemmas, both Murangira and Samputu were already in the public debates and had been photographed before. In the case of Murangira, I was determined to give a different angle to portraits of him by western journalists who worked mostly with the bullet scar in Murangira's forehead. I wanted to give importance to his eyes.
By the time I met Frank Möller, I was already reflecting on ways photography can be used to beautify the remains of the victims of genocide that we find in memorial museums. I saw that these photographs tied the remains of the victims to our, yours and mine, everyday lives. That, I thought, would stir the imagination of the living about individual lives lost in the genocide. While I believed that the piles of broken skeletons and bone can inform about the vast number of lost lives, I concluded that they could not adequately tell us stories about the lives the victims lived. On the contrary, many around the world see a wedding ring as a symbol of matrimony. Seeing a stove suggests that sometime today or tomorrow we will have to cook something to eat. In this way the personal belongings of victims represented much more than found objects. They represent life itself. At the memorials, I sought signs and details to convince myself and others that the victims were human beings, not cockroaches or snakes as the propagandists would have it. In that regard, I carefully observed one belonging after another that the victims left behind as they fled to their final destination, the killing fields.
But I needed to learn more, and I needed to put the words to the images. I wanted to learn about how to deal with both distance and proximity in ways that transgression is not understated or overstated. I did not know how to go about this. By now I lived in Sweden and the closest to Africa was The Nordic Africa Institute (NAI). I visited their library to see if I could find inspirational material. (This period was also important because I later came across some readings on Dag Hammarskjöld haiku writing, much more rewarding, much more rewarding readings.) It's in such occasions of the different visits to the library and attending events at NAI and the Dag Hammarskjöld Foundation that one evening Henning Melber, then director of the Dag Hammarskjöld Foundation, connected us, Frank and I.  
While I had started to photograph the objects in the genocide memorials in Rwanda, it was the collaboration with Frank that provided a decisive opportunity in clarifying ways forward. I am very grateful this encounter and collaboration happened. Most importantly, researching with Frank, helped me find the answer to the questions of distance and proximity. I paid continued visits to the genocide memorials such as the one in Ntarama. It is sad that this memorial is very rich in objects the victims left behind. Researching in the immediate proximity and magnitude of such intimate realities for a publication in a distant place helped realise I did not need to worry about understatements or overstatements. It became imperative to describe what I saw, both in images and words. Because the meaning making of the post-genocide realities was going to be impossible unless we started to make these museums fully name what they contain, and make them talk to us about it.
This is where the readings about Hammarskjöld's haiku works helped decisively. It made me feel comfortable in the task of providing full statement, withholding less, giving as much as possible. Because unlike the haiku that makes understatements yet becomes easily relatable, my works had to make complete statements but yet avoid overstatements in order to be understood.  
And because staying long hours in museums observing remains, and taking photographs, required lots of efforts, I started to sketch small poems to help me stay focused and avoid being overwhelmed. So I would imagine genocide survivors who struggle to rebuild their lives, and how we celebrate life as when we remember the victims, and the need I forged in myself to do my best to fairly portray the perpetrators worries, fears, joys, and struggle to come back to their former communities. Then I would write patchy lines to remind me in the future of the quests I once pursued. Not all such meaningless poems stayed with me. Most of them were lost in places I stayed during my travels. But here is one I found I transcribed some time ago:
we recite poems of peace,
we sing songs of love,
as we repair the fragile bridge,
between heart and mind,
and the world feels better.
In 2011, I opened Temples of Memory with these photographs on a platform that now goes under thegword.net. At that time, I wrote that I hoped "viewers will organize lectures and seminars; use the exhibition for presentations at universities, churches, synagogues, mosques, at state houses and governmental organizations;" to discuss ways forward in vehiculating ideas for a world without mass violence. The contributors to this thing are making this dream possible, and it is an affirmation of life (I am borrowing from my friend and mentor Late Eric Markusen) that people from the different cultures in the different parts of the world are willing to share these intimate and passionate digital prints for the sake and hope for a better world. It is my hope that visitors and users of this platform will be gentle and kind to the words and the images that are displayed here. If you wish to discuss, ask, or contribute, please send an email to rwanda25@templesofmemory.org and we will respond as soon as time permits.
One last detail! I did not catch Honorable Lt. General Dallaire's soul! Through him I did photograph my own furstration about the way this world treated him after 1994. But if any such associations with matters of the soul, I am very close to one person Honorable Dallaire rescued, and I am a grandson of two old wise men who perished in 1994 after losing the entire 20th century.
Since the past must inform the present about the future, let me convey the words that come to mind when I meditate sunlight and contemplate moonlight:
There will be no sounds of the boots,
there will be no large crowd gatherings,
we will think non-violently,
during the walks to remember, and the works to heal history;
There will be lots of movements of the eyes,
searching for the affirmation of life;
on the way from above and below,
back to the universe of obligation.
Rafiki Ubaldo, Knivsta April 28, 2019
Contributors to Rwanda'94: Beyond Time and Space
Frank Möller is a Senior Researcher at the Tampere Peace Research Institute (TAPRI), Tampere University, Finland, and co-convenor of the ECPR (European Consortium for Political Research) Standing Group on Politics and the Arts. Frank Möller is author of Visual Peace: Images, Spectatorship and the Politics of Violence (2013) and, most recently, Peace Photography (2019).
Dr. Fazil Moradi is a postdoctoral researcher, member of the Law, Organization, Science and Technology (LOST) Research Network, member of Sci-Tech Asia, and Associate at Max Planck Institute for Social Anthropology. He received his PhD in Social Anthropology from University of Halle-Wittenberg, where he is lecturer, with a dissertation on the living on of al-Anfāl genocide in Kurdistan-Iraq. His anthropological inquiries are located in the Middle East, Africa and Europe, covering modernity' infrastructures of memory and violence – genocide-feminicide, bureaucracy, effects of chemical weapons, ecological harm, global drones and satellite imagery – technoscience of evidence & testimony, aesthetics of violence, translation and hospitality. Dr. Moradi's recent publications include, ed. vol. Memory and Genocide: On What Remains and the Possibility of Representation (Routledge, 2017); Evidence: On the Translatability of Modernity's Violence (Special Issue, Critical Studies Journal, 2019) and is currently completing a monograph entitled, Hosting Feminicide-Genocide: On the Living On of the Un Translatable in Kurdistan, Iraq.
Andrew Woolford is professor of sociology and criminology at the University of Manitoba, a member of the Royal Society of Canada College, and former president of the International Association of Genocide Scholars. He is author of 'This Benevolent Experiment': Indigenous Boarding Schools, Genocide and Redress in the United States and Canada (2015), The Politics of Restorative Justice (2009), and Between Justice and Certainty: Treaty-Making in British Columbia (2005), as well as co-author of Informal Reckonings: Conflict Resolution in Mediation, Restorative Justice, and Reparations (2005). He is co-editor of Canada and Colonial Genocide (2017), The Idea of a Human Rights Museum (2015), and Colonial Genocide in Indigenous North America (2014). He is currently working on two community-based research projects with residential school Survivors: 1) Embodying Empathy, which will design, build, and test a virtual Indian Residential School to serve as a site of knowledge mobilization and empathy formation; and 2) Remembering Assiniboia, which focuses on commemoration of the Assiniboia Residential School. He has most recently initiated a project on human and other-than-human relations within genocidal processes under the title "symbiotic destruction."
Samuel Totten is a scholar of genocide studies, is Professor Emeritus at the University of Arkansas, Fayetteville. From January to July 2008 Totten served as a Fulbright Scholar with the Centre for Conflict Management at the National University of Rwanda in Butare. From 2004 to 2011, Totten dedicated himself to conducting field research into the Darfur genocide along the Chad/Darfur, Sudan border and in Sudan, itself. From 2012 to 2017 he conducted research in the war torn Nuba Mountains in Sudan, and eventually began carrying out humanitarian missions on the behalf of those Nuba people in most desperate need. His three most recent publication is Dirty Hands, Vicious Deeds: The United States' Complicity in Crimes Against Humanity and Genocide (University of Toronto Press, 2018); Teaching and Learning About Genocide and Crimes Against Humanity (Information Publishers, 2019); and The UN Convention on Genocide: An Introduction (with Henry Theriault) (University of Toronto Press, 2020).
Irene Victoria Massimino is an Argentine human rights lawyer serving as a Rapporteur of the High Criminal Court of Buenos Aires State (Criminal Tribunal of Cassation) where she focuses mainly on cases of torture, police brutality, sexual violence against children and adolescents, and gender violence. She teaches Human Rights in Latin American in the Department of International Education at Universidad Nacional de Tres de Febrero, Argentina, and has recently taught Genocide Prevention and the Law in the Genocide Prevention Certificate at Stockton University in the USA. Irene is former Co-Secretary-Treasurer (2015-2017) and current member of the Resolutions Committee of the International Association of Genocide Scholars (IAGS). She also a member of the following organisations: Asociación Americana de Juristas (AAJ-American Association of Jurists); the Global Alliance for Justice Education; the Argentine NGO Asociación Pensamiento Penal.
Paul Slovic is a Professor of psychology at the University of Oregon and a founder and President of Decision Research. He studies human judgment, decision making, and the psychology of risk. His most recent research examines "psychic numbing" and the failure to respond to mass human tragedies such as genocide. You can read about this work on the website arithmeticofcompassion.org
Leicy Olsborn Björby is an artist, atelierista, writer and lecturer on the expanded fields of art and education. She is educated in graphics, photography, painting and artistic research at various schools in Sweden and England. Her work is often very conceptual where the process is an important part of the creation together with technology, materials and context. "Through art, I discover the questions to the answers that make me more curious about the complexity and imperfection of life and humanity." She has also written two books about the importance of reflection and documentation in the early years, in preschool, to be able to comprehend the complexity of experience, learning and memory. More about Leicy's work at www.olsborn.com
Tanja Schult is an Associate Professor at the Department of Culture and Aesthetics at Stockholm University. She is the author of A Hero's Many Faces. Raoul Wallenberg in Contemporary Monuments (Palgrave Macmillan 2009, as paperback in 2012), and the editor (together with Eva Kingsepp) of Hitler für alle. Populärkulturella perspektiv på Nazityskland, andra världskriget och Förintelsen (Carlsson Bokförlag 2012), and the editor (together with Diana Popescu) of Revisiting Holocaust Representation in the Post-Witness Era (Palgrave 2015). Her current research projects include Making the Past Present: Public Perceptions of Performative Holocaust Commemoration since the year 2000, is financed by Swedish Research Council.Professor Tanja is also the editor of Performative Commemoration of Painful Pasts, http://liminalities.net/14-3/ Dr. Mark Gudgel is the co-founder of the Educators' Institute for Human Rights where he served as the Executive Director from 2010 to 2015, working in Rwanda with classroom teachers who teach about genocide.  Today, Gudgel teaches courses on English, world religions, and genocide at Omaha North High Magnet School, and adjuncts various courses at Southeast Community College and Nebraska Wesleyan University. Gudgel is a Fulbright Scholar, a fellow of the United States Holocaust Memorial Museum and the Imperial War Museum and, most importantly, a dad. He lives in Omaha with his wife, Sonja, and his children, Titus and Zooey.
Karangwa Charles is a Rwandan sociologist working with civil society organizations in the psycho-social development field since 1995, the immediate aftermaths of the genocide against the Tutsi in Rwanda.  A genocide survivor, he felt the urge to take part in eradicating all potential causes of genocide and contributing to the healing and reconciliation process among our citizen.
Brent Swanson is a Lecturer in musicology at University of Miami's Frost School of Music, Dr Swanson's research interests vary from area studies (i.e., Africa, Latin America, the Caribbean, and the United States) to the role of music in transnationalism, race, healing and peacebuilding. He completed his PhD on Jean Paul Samputu in 2014. He is also former President of the non-profit Mizero Children of Rwanda and is a songwriter, church music director, recording artist, and performer. He has served as a lay minister in the Anglican church for over 20 years, and is currently the music director at Anglican Church Of The Word in Pembroke Pines Florida
Adam Hayward has been teaching in Miramichi, New Brunswick, Canada for 13 years. In 2009 he travelled to Rwanda as part of a delegation of 25 teachers to learn about and commemorate the 15th anniversary Genocide against the Tutsi. This experience in Rwanda inspired him to pursue his master's degree in Holocaust and Genocide Studies at the University of Amsterdam which he completed in 2013.  Adam spends most of his summers traveling off the beaten path and have visited over 35 countries on 6 different continents.
David O. Akombo is an Associate Professor and Director of Music Education at Jackson State University in the United States, David Akombo's accomplishments include music for cultural education, research and creative scholarly innovations around the world. He has presented symposia and workshops at international conferences and is a member of the Board of The Interdisciplinary Society for Quantitative Research in Music and Medicine (ISQRMM). His books include: Unity of Music and Dance in Society Worldwide" Jefferson, North Carolina: McFarland & Company (2016); Music and Medicine: Connections Found, Seaburn Press, (2009), and Music and Healing Across Cultures, Culicidae Press (2006).
Rebecca Tinsley is a journalist and human rights activist who has worked in nine African countries. She founded Waging Peace, a London-based group campaigning on Darfur, and Network for Africa, a charity working with survivors of genocide after the big aid agencies move elsewhere. Together with her husband Henry, she was asked by President and Mrs. Carter to start the Carter Centre UK. She was on the London Committee of Human Rights Watch for seven years and has attended human rights trials in Turkey on their behalf. Rebecca completed a law degree at the London School of Economics. She is a former BBC reporter, and she stood for election to the UK parliament twice during the 1980s. Her articles have appeared in The Times, The Independent, The Telegraph, the Guardian, The New Statesman, The Santa Barbara News-Press and the Anniston Star. She is on the advisory board of Bennington College, Vermont, and is a trustee of the Bosnian Support Fund. Her third novel, When The Stars Fall To Earth (LandMarc) is based on her interviews with the courageous survivors of the genocide in Darfur. All author royalties donated to Darfur Refugee Rescue Efforts.
Helen Hintjens is an Assistant Professor in Development and Social Justice at the International Institute of Social Studies, an institute of Erasmus University Rotterdam, located in The Hague. In addition to teaching in Peace Studies, Security and Human Rights, her main research interests include post-genocide recovery in Rwanda, and the comparative asylum policies of EU member states, from critical security and human rights advocacy perspectives. Her publications include (co-editor Dubravka Zarkov) Conflict, Security, Peace and Development, Routledge (2015). Helen is also a practicing artist with an interest in how the arts and media can be misused and used for purposes of violent conflict and peace.
Rafiki Ubaldo is a Rwandan-Swedish writer, scholar and photojournalist. His publications include Music and Peacebuilding: African and Latin American Experiences, Lexington Books, 2020 (co-edited with Helen Hintjens) and We cannot forget: interviews with survivors of the 1994 genocide in Rwanda, Rutgers University Press, 2011 (co-edited with Samuel Totten). Since 2011, he maintains www.templesofmemory.org a platform for his photo-literature on the memoryscapes of genocide and mass violence.  Between 2011 and 2015, Rafiki Ubaldo served on the Executive Board of The International Association of Genocide Scholars. In Sweden, his articles have been published in SydSvenskan. His short story début, The Bullet, was first published in English by Two-Third North (Stockholm University), and was later translated in Finnish by Kosmopolis, in Polish by Gazeta Wyborcza, among other languages. Rafiki is currently working on a long form poem on the continuities of the traditional ritual paths of Rwanda, among other projects.